Groundbreaking Researchers
Impact Report 2020-21
HInM continues to work with local research partners to focus activity on addressing the health and social care priorities of the city region, as well as secure further funding and advance translational research delivery into frontline care.
During the COVID-19 pandemic these partnerships have rapidly responded to minimise lives lost and reduce the impact of the pandemic on Greater Manchester's health and social care system and the wider community. This has included the creation of a COVID-19 Research Rapid Response Group, harnessing the power of hundreds of researchers and clinical colleagues to provide cutting edge research, and recruiting thousands of participants to COVID-19 research studies.
Across the city-region, all of the NHS hospital trusts have supported and delivered vital research, helping their patients to take part. There has been a unified, coordinated approach to recruitment to clinical studies with 30,600 people in Greater Manchester taking part in over 40 nationally prioritised COVID-19 studies, supported by the National Institute for Health Research (NIHR) Clinical Research Network Greater Manchester. The studies have focused on data, observations, and treatment to help stop the virus or improve care for patients.
These efforts have enabled world-leading research into successful treatments, such as dexamethasone and tocilizumab, which are now helping the sickest patients get better. NHS partners have also played a pivotal role in COVID-19 vaccine studies, such as the Novavax vaccine trial, where Greater Manchester was one of the top recruiting regions nationally, with over 1,240 of our local citizens taking part. GM partners have also played significant roles in ground-breaking platform studies such as RECOVERY, PRINCIPLE and REMAP-CAP, which have made a important contribution to the global understanding of COVID-19.
Read a blog by HInM's Academic Director Ian Bruce about the importance of research during COVID-19.
---
Case study: Supporting Greater Manchester Research Rapid Response Group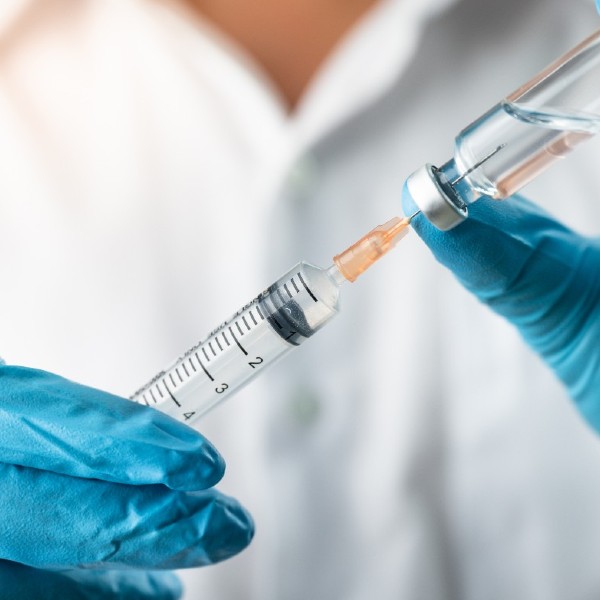 The Greater Manchester Research Rapid Response Group (GM R3G) was established in March 2020 and brought together hundreds of researchers from GM universities with clinical colleagues from the region's NHS Trusts.
The work was backed by HInM and NIHR bodies and included work into new treatments, understanding the disease mechanisms, prevention/vaccination and use of data science.
The group was a vital part of Greater Manchester's research response and worked across organisational boundaries to prioritise research that would have an immediate impact in the pandemic response. It was led by Professor Ian Bruce, Director of the NIHR Manchester Biomedical Research Centre and HInM's Academic Director.
During the initial stages of the pandemic, the group reviewed COVID-19 related research projects to ensure the most effective use of resources, and co-ordinated the deployment of specialist equipment and volunteer technical staff to assist in the mass testing efforts.
The group also supported efforts to mobilse clinical academic staff to the NHS frontline and reviewed a number of projects to optimise the quality and scientific
rigour required to maximise UKRI funding. As a result of this reviewing process, GM partners secured over £8.5million of UKRI funding.
The R3G also supported policy response within GM, including local decision making and advising where resources would be best placed in the system. An example of this is the GM Mass Testing Expert Group (MTEG). Through MTEG, academic and clinical communities were brought together to provide considered expert advice to guide the development and implementation of the strategy using the very best academic, clinical and sectoral expertise available. The adoption of this advice:
Accelerated innovation in the test-trace-isolate plan.
Improved quality and safety of this plan.
 Ensured links with other relevant health and care interventions.
Facilitated a harmonisation of testing strategies across the GM city/region.
Similarly, academics and key opinion leaders have contributed opinions to a House of Lords enquiry in areas related to digital technologies and contact tracing, antiviral vaccines, clinical trials, public health and new diagnostics.
"The Research Rapid Response Group allowed us to focus on what was most urgent, support the research leads by removing the barriers that slow down progress and allow the experts in different fields to thrive. People have worked together in a collaborative way and some of the big ideas that have been supported by the group are now having national impact." – Professor Ian Bruce
---
Manchester Academic Health Science Centre (MAHSC)
2020/21 marked the first year of a new five-year designation period for MAHSC after being formally designated as an Academic Health Science Centre by NHS England and NHS Improvement and the NIHR for demonstrating excellence in health research, health education and patient care.
MAHSC brings together world leading academic and NHS partners and is now one of only eight academic health science centres (AHSCs) in England – and one of only two in the North.
The MAHSC discovery and translation strategy is delivered by six domains, each jointly led by an academic and an NHS clinician and chaired by a CEO from a partner Trusts. The domains are: Cancer, Cardiovascular & Diabetes, Inflammation & Repair, Mental Health, Neuroscience and Women & Children.
These are underpinned by expertise in applied health and care research linked to our NIHR Applied Research Collaboration (ARC), as well as the cross-cutting aims to:
Innovate within a GM Person-centred Health Service
Expand Manchester's capacity & capability
Integrate our Digital Infrastructure
Membership of MAHSC includes research intensive NHS partners: Manchester University NHS Foundation Trust, The Christie NHS Foundation Trust, Salford Royal NHS Foundation Trust, Greater Manchester Mental Health NHS Foundation Trust and The University of Manchester. MAHSC also works in close collaboration with Greater Manchester's thriving scientific community and research infrastructure and higher education institutions.
During the COVID-19 pandemic it has been vitally important to continue sharing knowledge. To support this, MAHSC created a seminar series in order to showcase the great discovery and clinical science being undertaken and its impact on the health of the local population. The series gives a platform to the nationally and internationally renowned scientists of MAHSC to share their work with the wider scientific community, clinical colleagues and the public.
Many sessions within the series focussed on COVID-19, including insights into the immunological response, approaches to diagnosis and treatment and mathematical modelling of COVID-19. Later sessions within the series featured a wider selection of topics including mental health, cancer, maternity care, commercial engagement and the science of implementation.
Find out more about the MAHSC seminar series
Read a blog by MAHSC Clinical Director and HInM Chief Academic Officer Professor Peter Clayton about aligning research and academic strengths during COVID-19
---
NIHR Applied Research Collaboration Greater Manchester (NIHR ARC-GM)
NIHR Applied Research Collaborations (NIHR ARCs) undertake applied healthand care research to meet local and national need. The NIHR ARC Greater Manchester became a core component of HInM in October 2019, integrating with the academic health science network) and academic health science centre.
NIHR ARC-GM was set up to design and deliver applied health and care research that responds to, and meets, the needs of local populations and the GM health and care system. It is one of 15 ARCs across England, part of a £135 million investment by the NIHR to improve the health and care of patients and the public. ARC-GM conducts research in five core research themes, which were selected to reflect key challenges in GM:
Digital Health
Economic Sustainability
Healthy Ageing
Mental Health
Organising Care
And four cross-cutting themes:
Evaluation
Implementation Science
Capacity Building
Public and Community Involvement and Engagement (PCIE).
When COVID-19 began, the ARC-GM was not yet six months old and much of the work was still in the set-up phase. The team looked to support the COVID-19 response where possible as well as retain sufficient resource and capacity to conduct other research. However, now 18 months old, ARC-GM has more than 50 active applied health research projects, including
both GM and national studies, and has a wide range of research infrastructure collaborators.
During 2020/21, NIHR ARC-GM has conducted important research and evaluation:
Within the Economic Sustainability theme, colleagues have examined health inequalities and have worked with the Northern Health Science Alliance and ARC North East & North Cumbria on the impact of COVID-19 on unemployment and mortality. The research analysed data to discover that COVID-19 is hitting the North the hardest and that its effects are likely to last longer in the region.
ARC-GM played an important role in the evaluation of the Keeping Well at Home booklet, which was produced, printed and distributed across Greater Manchester by The University of Manchester's Healthy Ageing Research Group with the Greater Manchester Ageing Hub at the Greater Manchester Combined Authority. The booklet aimed to support those who are self-isolating during COVID-19. A survey of nearly 500 respondents found 92% agreeing that they information was helpful. Around 50% of respondents did not have access to the internet; 65% agreed that they would not have had access to this information if they hadn't received the booklet, and 90% agreed that the booklet had helped older adults to stay healthy during lockdown. The ARC-GM evaluation of the booklet revealed that not everyone is online and those that are do not necessarily access information digitally. Therefore information, support and services must be made available in an offline equivalent and proactively disseminated to reach those who otherwise would not have access to it. Public member Elaine, who was involved in the development of the booklet said: "Older people are the recipients of this booklet. If we are involved, we have got shared experiences of older people and also we can help promote it. I particularly saw myself as a partner in this, not as a "you" and them". I felt very much involved, and that our contribution was taken on board."
Researchers within ARC-GM have worked with the Department of Mathematics in the University of Manchester, to support Public Health England in looking at outbreaks of COVID-19 in care homes across England. This has involved the careful application of mathematical and statistical techniques to national data to look at the characteristics of care homes that were linked to increased COVID-19 outbreaks. This enabled colleagues to identify patterns and, crucially, the factors which seem to be linked to more outbreaks, for example staff sharing cars to travel between homes or PPE availability.
Read NIHR ARC-GM Director Prof. Dame Nicky Cullum's blog on the importance of applied research during COVID-19
---
Read the rest of the 2020-2021 Impact Report
Use the image links below to move between the different sections of the report.