10 Nov 2020
Guy Lucchi – Sustaining digital innovation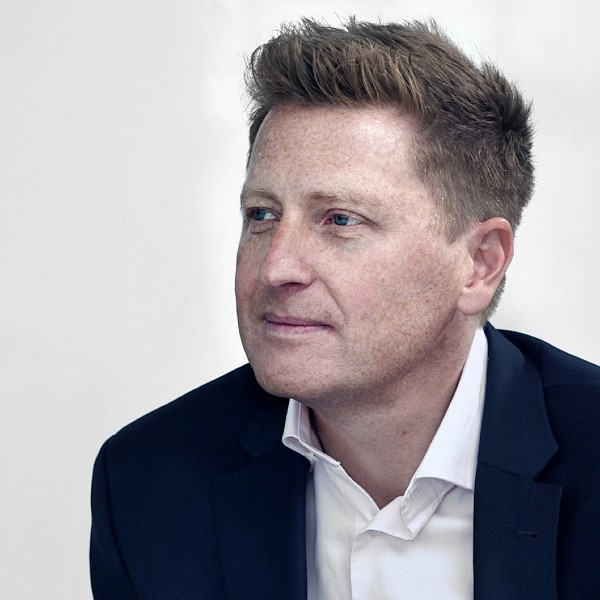 Since Health Innovation Manchester (HInM) was formed in October 2017, supporting and enabling transformation within health and care has been a vital aspect of the organisation's work.
The experiences and relationships developed over the past few years allowed HInM to rapidly pivot its work to focus on key digital programmes to better support the system during COVID-19.
In this blog, Guy Lucchi, Digital Innovation Director, looks in detail at two of these key programmes – acceleration of the GM Care Record and digital primary care – including the key successes, challenges and how to sustain digital transformation.
When COVID-19 hit, health and care had to rapidly adapt to an entirely new landscape and way of doing things. COVID-19 was a rallying call to the system to quickly set out priorities and find ways to overcome challenges. It was clear that transformational changes were required and digital could provide rapid solutions.
Clinicians need access to information which will allow them to provide the right care to their patients. And never has there been a situation where the ability for clinicians to access up to date information about their patients – including their medications, test results and care plans – was so important than during COVID-19. Accelerating the GM Care Record to provide this information was vital to the care of patients during the pandemic.
We worked closely with GM's health and care partners to 'remove the walls' within the system and pull in the data feeds from GP practices and NHS Trusts to enable clinicians to be able to see the complete record for the patient they were treating – irrespective of which locality in GM holds the data. All of this took a matter of weeks not months or years, thanks to the joint efforts and focus across the system. Use of the GM Care Record is growing with over 80,000 patients per month accessed through the GM Care Record with over 9,000 frontline users – doubling since March 2020.
As well as informing direct care and treatment, we are looking at how the data can be used to support vital COVID-19 research and response planning into COVID-19. This could include epidemiology research of the disease, proactively supporting those at highest risk, identifying potential vaccine trial cohorts or just general service planning.
But this has required us to get the information governance arrangements in place and ensure that around 600 data controllers who are feeding data into the GM Care Record are confident that the data will be used in a correct and appropriate way.
We've been able to do this by putting the right systematic structures and processes in place to ensure that there is visibility and transparency of the work, including a Clinical Reference Group and a Secondary Uses Oversight and Scrutiny Committee, with representation from across GM. We are also working with the public and patients about use of the data and this engagement work has been, and will continue to be, a vital part of building trust and confidence.
Almost overnight there was a need for GP practices to be able to adapt and use digital technology to support virtual consultations during COVID-19 and prioritise in-person appointments for those with greatest need. Nationally there was support for GP practices in terms of selection and deployment of the technology required, but that didn't necessarily guarantee that it would deliver a consistent service for patients or be optimised to deliver improved outcomes.
So HInM, on behalf of the COVID-19 Digital Coordination Group and the Digital Primary Care Board, developed a set of standards and outcomes which all practices should work towards, regardless of what digital products they have implemented. Informed by the different approaches taken across GM and co-created by the public, practice managers and GPs, it will support practices to monitor activity, ensure outcomes and share learnings.
We've seen some radical transformations across primary care, including practices who have gone from relying on telephone calls to book appointments to over 90% of requests arriving via the new online systems. And from a request coming into the practice to being actioned, either through an online or telephone consultation, or administrative support, the mean time for a response is only 90 minutes which is amazing.
Where we're seeing big transformational changes is through clinical triage. Previously a new request coming into the practice might have been triaged by a receptionist on the phone or through admin, irrespective of the nature of the request. But with clinical triage, doctors are empowered to triage first and delegate administration requests or automate prescriptions without an appointment. It is giving the patient a better experience as they get the right support first time, often without needing to attend the surgery and it frees up appointments for those with most need.
People, Process, Culture, Technology
A key to ensuring that the digital approach has been embedded within both the GM Care Record and the primary care work has been a focus on the people, process and cultural factors – not just the technology itself.
For example, with primary care the digital tools have been transformational in allowing new ways of working, but what has been fundamental to realising the benefits that the new systems can offer is addressing the processes or ways of working within the GP practice and empowering a move to clinical triage and providing a framework to work towards.
And in terms of the GM Care Record, we've spent a lot of time getting the infrastructure right so the data feeds into the system. But we've also focused on engagement and communication with clinicians to ensure they understand the availability of the GM Care Record, what it can do and the compelling reasons for using it to aid clinical decision making. And by doing that we're seeing great feedback about how it's making a difference to their roles and saving them time.
Sustaining Digital Innovation
During the COVID-19 pandemic we've learned a lot about how we can continue with digital innovation and sustain the gains we've made.
We've seen how digital needs to align to the priorities, business strategies and plans of a system – we shouldn't rollout digital innovation or tech for the sake of it. It should always be subservient to the priorities of the system and woven into the plans to enable us to meet those priorities. It should also be a conversation for those at the highest board level within organisations to make sure that the digital transformation is championed by senior leadership and given the support to add value.
Once the priorities are agreed, we've seen how important it is to ensure the right structures and governance is in place to support digital transformation. By agreeing priorities, coordinating on digital and bringing stakeholders on the journey from the start, we're building open and trusting relationships. It's inspired confidence in the programmes and means we've been able to make quick decisions and move forward at pace. When we have experienced challenges, building this confidence, focusing on engagement and having structures in place has enabled us to overcome issues and set up our future success.
It's also been vital to reflect back on what GM has done and achieved during what has been the most challenging circumstances. GM health and care partners have mobilised transformative programmes in a matter of weeks and built structures than can grow and develop in the future and we should be proud of that.