26 Oct 2020
Professor Ben Bridgewater: Leading a health innovation organisation during a global pandemic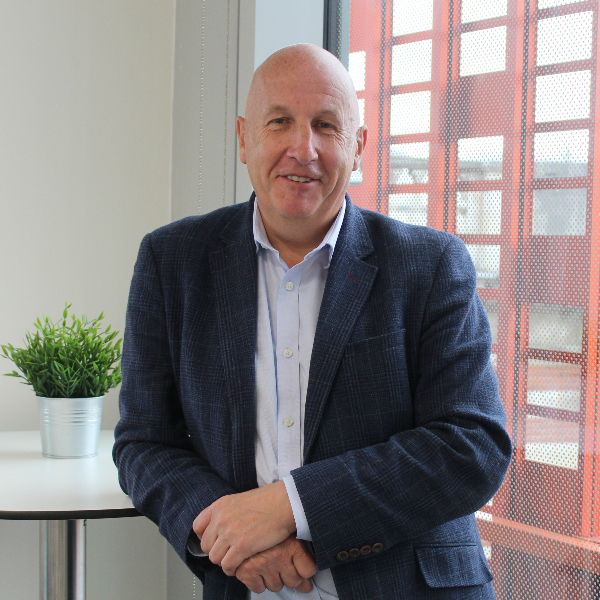 As part of a new blog series, Health Innovation Manchester has been speaking to leaders across Greater Manchester's health innovation and research system about the challenges, developments and learnings during the first six months of the COVID-19 pandemic.
In the first blog, Health Innovation Manchester's Chief Executive, Professor Ben Bridgewater, discusses his experience of leading an organisation responsible for accelerating health innovation into practice during the global COVID-19 pandemic.
It is fair to say that I will never be given a bigger challenge in my career than the situation I have faced over the past six months – the challenge of leading a health innovation organisation during a global pandemic. It has meant a need to adapt, innovate and work together in new ways. And it has affected every aspect of our daily lives.
As the pandemic progressed in the first few months of 2020 and the impact on our NHS services, the health of our residents and the care sector began to emerge, those working in health innovation needed to rapidly mobilise and play an integral part of the COVID-19 response.
Innovation at scale is intrinsically difficult. We know that from any number of experiences around the world, not least within Greater Manchester itself. Add into that a global pandemic, stretched services, lockdown and a rapid move to remote working and successful innovation could seem an impossible feat to accomplish.
But within GM we do things differently and Health Innovation Manchester has spent the past two-and-a-half years getting ourselves fit and able to deliver innovation challenges. Having HInM as a single organisation working across academia, industry engagement and healthcare innovation, aligned to the needs of our region meant GM was ahead of the game when COVID-19 began.
We didn't need to delay by building something new – we had the connectivity within the system, the existing structures and the accountability to define priorities and deliver outcomes. We had the governance arrangements in place and people from across the system around the table to work towards the same goals. That was the whole point of devolution – to give local leadership the ability to make local decisions to the needs of local people. And as we've seen the impact it can have during COVID-19, this local decision-making ability it is something that I feel even more passionate and strongly about now.
For example, within the first weeks of COVID-19 we were able to link together our research, academic and clinical expertise to create the GM Research Rapid Response Group to prioritise COVID-19 research and vaccines and enrol patients into research.
We could also rapidly mobilise work with primary care, CCGs, NHS providers and industry to accelerate and deliver the GM Care Record from 71% of patients to almost 100% coverage within six weeks, all underpinned by robust information governance arrangements. This is allowing more clinicians access to patient records so they can deliver the best possible care for GM citizens in the face of COVID-19.
A key thing that this period has taught me is that when you've got the governance right and everyone is aligned behind the same aims you can do anything. This partnership working has been vital to delivering innovation during COVID-19.
Internally within Health Innovation Manchester, we have seen changes to how we work. The pandemic has enabled us to use the resources and talents within our staff, including our backgrounds, experiences and different way of viewing problems, to join behind specific priorities.
It means the various elements of our work – the industry partnerships, engagement with the health and care sector, research excellence, PPIE, communications, programme management and leadership – can be aligned to common goals and projects in a way we haven't done before and it is something we'll be looking to continue. We've also adapted to new technology and systems within our organisation, recognising the value of remote networking channels and collaboration tools as we work remotely, across teams and organisations.
The ideas of partnership working, setting clear goals and aligning work to the priorities of the system are not new ideas, but the value they provide within innovation has never been felt more acutely.
But what is new is the importance of embedding digital within innovation and transformation. We have seen how important it is not just to focus on the technology itself, but also the customer experience, the people impacted by the innovation, the process and the cultural changes needed to embed and realise the benefits. More on that in the next blog.