03 Mar 2020
Two transformative Health Innovation Manchester projects shortlisted for HSJ Value Awards 2020
A transformative project to rapidly test and treat those with Hepatitis C entering prison and an education programme supporting GPs to more accurately diagnose skin conditions in practice have been shortlisted for HSJ Value Awards 2020.
The HSJ Value Awards celebrate the projects, teams and the people who are making things better in the NHS.
Health Innovation Manchester can announce that two projects have been shortlisted for awards at the HSJ Value Awards 2020 awards ceremony in May.
Greater Manchester Hepatitis C Elimination: Prison-based Rapid Test and Treat
The Greater Manchester Hepatitis C Elimination: Prison-based Rapid Test and Treat project has been shortlisted for System or Commissioner Led Service Redesign Initiative.
The project has seen the redesign of the Hepatitis C prison pathway through a rapid test and treat model, reducing the time from entry into prison to testing from more than two weeks to less than 12 hours and curative treatment for those found to be positive from more than four weeks to less than 72 hours.
It is a partnership between Health Innovation Manchester, North Manchester General Hospital (Part of the Northern Care Alliance NHS Group) HMP Styal and Spectrum Healthcare.
The new pathway aimed to improve individual experience, reduce the time from test to treatment and improve adherence to treatment.
Prison healthcare staff were involved in pathway mapping and engagement was undertaken with residents and staff at HMP Styal to raise awareness of the programme and share the benefits of early testing and treatment. Industry partners Cepheid also trained staff to use new technology to test for Hepatitis C quickly.
It forms a key part of the Greater Manchester regional Hepatitis C Elimination programme, which is aiming to achieve elimination by 2025, and the model is currently being rolled out to other local prisons.
The Hepatitis C project has been selected based on the diligence, ambition and the positive impact that the project has had within the health and care system.
Dr Andy Ustianowski, Clinical Lead for the Hepatitis C project at Health Innovation Manchester and Infectious Diseases Consultant, said: "It is fantastic to see Greater Manchester's prison-based Hepatitis C rapid testing and treatment project shortlisted for an HSJ award.
"It recognises the collaborative efforts and dedication of each of the partner organisations to improve the prison Hepatitis C test and treat pathway.
"We are committed to delivering improved outcomes for Greater Manchester's residents and the wider health and care sector, and to be chosen among the other incredible nominees is a wonderful achievement."
The DECIDE Education Programme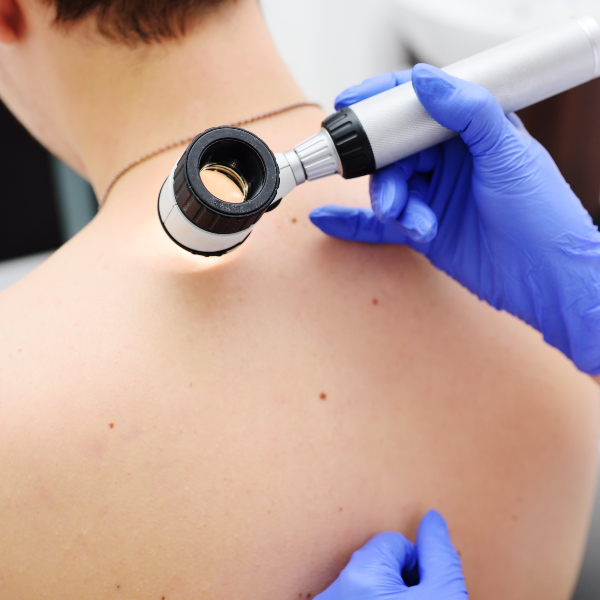 The DECIDE GP Dermatology Education Programme has been shortlisted for Primary Care or Community Service Redesign Initiative.
DECIDE is an innovative educational programme that supports community clinicians to improve their decision making around diagnosis and management of health problems to improve outcomes for patients.
Health Innovation Manchester has worked with Dr Mini Singh, DECIDE Programme Director from the University of Manchester; supported by NHS commissioners and dermatologists at Salford Royal NHS Foundation Trust, on the roll out of the dermatology module of the programme to GPs in with Heywood, Middleton and Rochdale CCG, Bury CCG, Salford CCG and Wigan Borough CCG.
Through the programme GPs develop their decision-making skills and learn how to use a piece of kit called a dermatoscope – handheld devices that magnify the skin multiple times and use light to allow them to see colour and structures in the skin that are not visible to the naked eye.
This helps the GP to observe and diagnose some skin lesions, preventing a referral to specialist services in many cases. The introduction of the new equipment gives many patients a speedier diagnosis and peace of mind without the wait, whilst freeing up specialist services for patients that do need them.
Dr Singh, Consultant Dermatologist at Salford Royal and Senior Clinical Lecturer at The University of Manchester, said: "DECIDE  encourages clinicians to interpret the patient's story critically to come up with accurate diagnoses. It enables them to select evidence-based, cost effective treatments to provide better outcomes for patients.
"The DECIDE Programme's underpinning philosophy is to provide healthcare clinicians with flexible, relevant education that they can directly translate into their practice"
"We are delighted to have been shortlisted for this award."
The judging panel comprised a diverse range of highly regarded figures across the NHS and wider healthcare sector. To be shortlisted as a finalist for these awards, despite tough competition from hundreds of brilliant applicants, is a mark of real achievement for all the project partners.
The winners will be selected following a rigorous, "live panel" judging stage ahead of the HSJ Value Awards 2020 awards ceremony.
Held at Manchester Central on 21 May 2020, the evening will provide a great opportunity for influential figures to unite and celebrate the achievements of their industry peers.
The awards evening is expected to be attended by leaders and professionals from within the NHS.
HSJ editor Alastair McLellan said: "We would like to congratulate Health Innovation Manchester on being nominated for two awards in the HSJ Value Awards 2020.
"We are looking forward to welcoming them to the ceremony in May, to join us in recognising the very best NHS teams and projects in the healthcare sector. This year's finalists are of an outstanding calibre and all of them are exceptionally dedicated to enhancing healthcare across the UK."
The full list of finalists for the 2020 HSJ Value Awards can be found on here