07 Nov 2018
Companies with innovative healthcare solutions invited to apply for a share of £300,000 Health Innovation Manchester funding
BUSINESSES with innovative healthcare products or services can now apply for a share of £300,000 as a Health Innovation Manchester funding call opens.
The Momentum Fund has been established to support the introduction and adoption of needs-led, evidence-based innovations into the healthcare system within Greater Manchester.
The fund is primarily looking for innovations that enhance mental health or community-based care, however other innovations will be considered. Innovations will need to have strong evidence of supporting patients and citizens to improve their health and wellbeing by making the best use of digital solutions in health and social care.
Small and medium-sized enterprises (SMEs) with innovations which are either market ready or close to being market ready are welcome to apply however all applications must include evidenced involvement from an NHS or social care organisation from Greater Manchester or Eastern Cheshire.
Applicants may apply for funding up to a maximum value of £50,000 and can be used for a variety of projects to advance their innovation, including market research, evaluation, clinical testing, third party professional fees and activities that will enable early stage revenue generation, such as limited production and sales.
Projects funded will last up to 12 months, and will be monitored against agreed milestones and outputs.
Through the fund, academic health science and innovation system Health Innovation Manchester aims to improve the health of our citizens and promote economic development and wealth creation through the growth of local businesses and jobs.
Richard Deed, Associate Director for Industry at Health Innovation Manchester, said: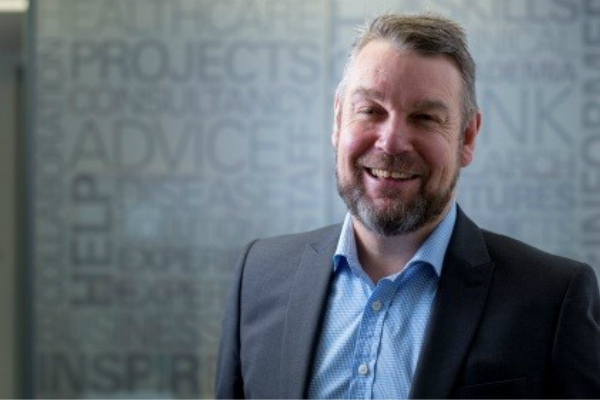 "Following the earlier successful funding rounds, we are delighted to launch the Momentum fund and look forward to supporting more SMEs and healthcare innovators within this round.
"Previous Momentum Fund recipients have gone on to bring their innovations to market and have begun to make a real difference within Greater Manchester and beyond.
"We are keen to hear from companies who are as passionate as we are about improving the health and wellbeing of our citizens and boosting the local economy."
SMEs interested in applying for Momentum funding should fill in an initial application before 12noon on 5 December, 2018. Successful applicants will then be invited to submit a full application and deliver a pitch to the review panel. Winners are expected to be announced in March, 2019.
For more information about applying click the button below.
Momentum Case Study: "Keep On Keep Up"
Digital health technology Keep On Keep Up, successfully applied for funding from Health Innovation Manchester in order to test the effectiveness of their app and take the innovation closer to market.
Falls are the largest cause of accidental death in older people across Europe with 30% of people aged 65 and older falling at least once per year. The direct and indirect annual costs of falls are substantial, reported to be over £2.3bn in the UK in 2013.
Keep On Keep Up, created by The University of Manchester with Jigsaw Homes Group and Reason Digital, aims to address this problem by empowering older people to self-manage their health and maintain their independence and quality of life for as long as possible.
The fun and informative app works by motivating people to engage in appropriate exercises that will improve their balance, muscle strength and power while also improving their awareness of simple changes that can be made to their environment and diet to help prevent falls and promote bone health.
Through Momentum funding, the team were able to undertake critical user testing, recruit a researcher to evaluate the effectiveness of the app and work with NHS Digital on safety compliance. The funding also enabled them to establish a Community Interest Company to take Keep On Keep Up to market.
Dr Paul Dewick, Honorary Research Fellow, Manchester Institute of Innovation Research, The University of Manchester, said: "We found the application process straightforward. "The two-stage written application process followed by the opportunity to present to a roundtable of stakeholders including clinicians, investors and health practitioners, enabled us to communicate how our needs-led, evidence based innovation would benefit older people in Greater Manchester and beyond."
He added that Keep On Keep Up have also benefitted from other support and expertise from Health Innovation Manchester and Trustech.
"We have benefitted directly from the Step into Healthcare Programme and Masterclasses, both in terms of knowledge and understanding of the market and external forces, and networking opportunities with other health organisations facing similar challenges. We have benefitted also from the experience and expertise of Trustech, who have been an effective project manager, supporting the process and facilitating access to external expertise.
"We would recommend the Health Innovation Manchester Momentum Fund to any organisation seeking to accelerate progress to market with a healthcare product or service."
For more information watch the video below: