12 Sep 2018
Four innovative companies selected to improve care in the NHS as digital health accelerator launches in Greater Manchester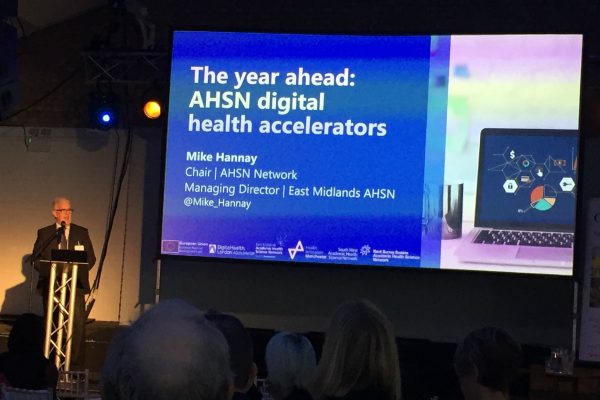 A DIGITAL app company providing personalised mental health support and a med-tech company turning a smartphone into clinical device for home urine testing are two of the companies selected as being best-placed to help England's NHS meet current challenges.
The Greater Manchester Digital Health Accelerator, run by Health Innovation Manchester, is one of five schemes launching today.
Building on the successful DigitalHealth.London Accelerator, it is part of the largest push yet to rapidly increase the speed of digital health products take up in the NHS. The digital health market in England is expected to reach almost £43 billion by 2018 and £408 billion by 2025.
The schemes are run by the innovation arm of the NHS, Academic Health Science Networks, and partners, and launch today in London, Manchester, the South West, East Midlands, Kent, Surrey and Sussex. The London Accelerator has been running for two years, saving in excess of £50 million for the NHS, working with 60 companies and generating 169 jobs.
The successful SMEs will receive:
One-to-one support from a designated "NHS Navigator": someone with strong clinical or NHS provider experience, who really know the NHS, and can help companies approach it
Specialist training
Support with product development
Opportunities to meet experts from business, clinical, and government backgrounds
Regular opportunities to showcase their products with NHS decision-makers and influencers.
Richard Deed, Associate Director Industry, Health Innovation Manchester, said: "Health Innovation Manchester is really excited to be participating in the Greater Manchester Digital Health Accelerator 2018. We are looking forward to working with the companies who have been selected from the 24 who applied. The four that have been successful are very different but all have a very strong value proposition to address some of the healthcare needs in Greater Manchester
"Greater Manchester has features which make it unique for the Digital Health Accelerator including devolved decision making to facilitate delivering better health, care and wellness services within budget and an integrated academic health science and innovation system, Health Innovation Manchester, pulling together existing digital assets across the city.
"Together these features will offer a unique opportunity for digital health companies to deliver benefits to citizens as well as evaluating and improving their value propositions.
"As well as working with the companies we are also really interested in working with the other AHSNs to share our learning and learn from not only our activity but also the companies involved – showcasing some of the best digital health innovations in the country."
The successful companies within the Manchester accelerator are:

Brain in Hand
A 24/7 digital system giving people with autism, a mental health condition or learning difficulty access to detailed personalised support from their smartphone. This includes reminders, notes, coping strategies and a team of trained professionals to give help when and where it is needed.
David Fry, CEO Brain In Hand, said: "Brain in Hand has already helped thousands of people in the social care sector and we feel we have something to offer anyone suffering with common mental health problems such as autism within the NHS. The accelerator is one of the best ways to get access to the NHS and understand how our product can benefit the NHS. We are hoping the programme can help us to access NHS decision makers to help refine our proposition to the NHS and enable us to demonstrate first-hand what a great impact Brain in Hand can make."
Healthy.io
Healthy.io is a med-tech company with a mission to improve healthcare outcomes by turning the smartphone into a regulatory approved clinical device. Its first product line, Dip.io, allows patients to do regular urine tests at home using their smartphone cameras and a digital testing kit. It is currently being used as part of a project at Salford Royal NHS Foundation Trust.
Matt Sweeney, Customer Success Director at Healthy.io, said: "Our product is about enabling patients to selfcare better. By enabling patients to take urine tests at home it can help to avoid unnecessary GP appointments, reduce unplanned admissions to A&E and improve the patient experience as well. Healthy.io is at the stage where we are ready to sell to the NHS and through the Manchester accelerator we are hoping to gain support to scale our business, use evidence to prove the benefits of the product, grow to new platforms and gain introductions within the NHS."

Malinko (Liquid Bronze)
Manchester-based Liquid Bronze have developed Malinko, a clinically safe, clinically aware secure scheduling system for managing community devices and its workforce. It automates the caseload scheduling, ensuring visits are optimally appointed, with live date and location information collected from nurses via an app. It has completed a successful pilot with Salford Royal NHS Foundation Trust.
Andrew Threlfall, Founder of Malinko, said: "We decided to apply for the accelerator as we knew we had a good product and we have had some successes with it but we faced big challenges of how we scale it, bring it to a wider audience and understand the NHS procurement process. Through the Digital Health Accelerator we are hoping to gain access to more markets and meet our peers and other companies who have had similar problems and how they have overcome it."
Safe Steps (Red Ninja)
Safe Steps is an app that helps health and social care professionals deliver standardised care and effective falls risk management. It reduces the risk of falls by assessing and tracking lifestyle and risk factors of care home residents, creating a personalised action plan for care homes to follow.
James Chapman, Safe Steps Founder, said: "We applied for the accelerator programme as we realised we are at the stage and evolution or our product where we need some additional expertise and guidance from the system and we felt the accelerator provided that. Safe Steps is a digital risk assessment tool which is designed to help prevent falls for older people and improve their lives. We feel this will be a massive benefit to the NHS as falls currently cost the NHS £2.3billion a year. Our ultimate ambition is to make this is a product that could be used in every care home in the UK."
Mike Hannay, Chair of England's Academic Health Science Networks, which run the accelerator schemes with partners, said: "There are hundreds of thousands of health and care apps and innovations on the market. It's unreasonable to expect busy NHS staff to keep on top of all them. That's where we come in to help the NHS find and use the latest, affordable innovation that will change people's lives and help make sure our world-renowned health system is fit for generations to come.
"Despite the array of talent and resources available, there is room for much better collaboration between SMEs and the health system to increase England's competitiveness in digital innovation. Connections between entrepreneurial innovation and health are essential for England to realise its potential and become a world leader in digital health innovation. With Brexit on the horizon, this scheme is more important than ever before. We have seen rapid growth in the companies supported by our existing London accelerator and we look forward to building on this with the next generation of start-ups."
---
---