Greater Manchester
T-MACS
Troponin only Manchester Acute Coronary Syndromes Decision Aid
Patients presenting with chest pain at the emergency department are the group most commonly requiring hospital admission.  Troponins are a family of proteins found in heart muscles that produce a muscle contraction with serial troponin testing remaining the standard of care to rule out heart problems.
Troponin only Manchester Acute Coronary Syndromes (T-MACS) is a decision-aid, a computerised clinical prediction model which calculates each individual patient's probability of acute coronary syndromes following a single blood test at the time of arrival at the emergency department. This probability is used to assign each patient to the relevant risk group and suggest a course of action for the clinicians to follow.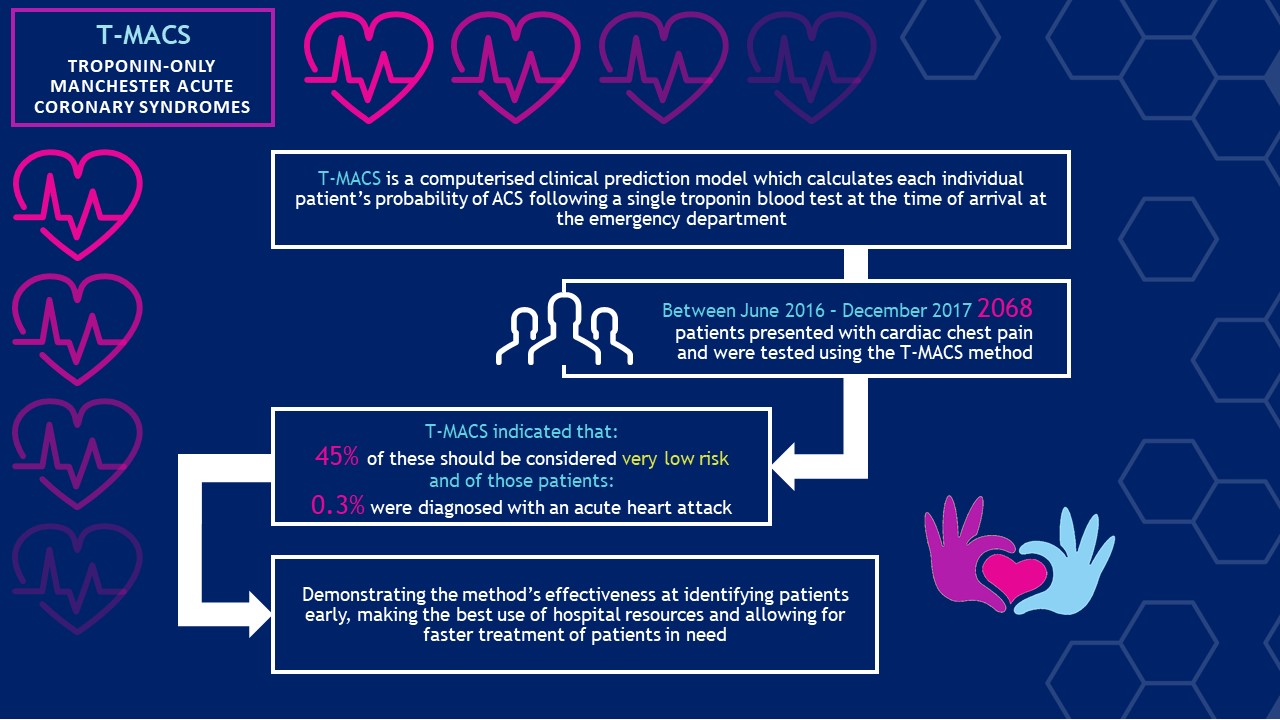 Since implementation at Manchester Royal Infirmary, over 3,500 patients have been treated using T-MACS, with the algorithm superior to NICE guidelines. More than two-third of patients can be treated in an ambulatory care setting, such as outpatient clinics or emergency departments, with the vast majority discharged on the same day, compared to a two-day average stay with routine care.
T-MACS won Manchester University NHS Foundation Trust's Transformation Prize in 2016 and Health Innovation Manchester now aim to implement it across Greater Manchester to increase the quality and efficiency of healthcare provided to patients. The project will result in improved quality of life for patients, due to quicker and more effective diagnosis and treatment, more appropriate triaging of patients and is projected to save £100million per year if rolled out across Greater Manchester.
As all the data is automatically collected, implementation will lead to formation of a world-leading registry for patients with acute chest pain. Linking with outcome data this will create an unrivalled infrastructure for ongoing audit, for introducing artificial intelligence and for enabling future pragmatic/point of care trials and more collaborative approach between patients and consultants – sharing real time data and analysis of risk.
Hospitals and Trusts implementing and evaluating the impact of T-MACs include:
Manchester Royal Infirmary
Trafford General Hospital
Wythenshawe Hospital
Stepping Hill Hospital
Blackburn Royal Infirmary
Burnley Urgent Care Centre
Salford Royal NHS Foundation Trust
Pennine Acute NHS Trust
Tameside Hospital
Macclesfield District General Hospital
Wigan, Wrightington and Leigh NHS Trust.
To find out more about the project contact Project Manager Joy Stonebanks: Joy.Stonebanks@healthinnovationmanchester.com