21 Nov 2018
Wigan patient ambassador raises awareness of Atrial Fibrillation after suffering AF-related stroke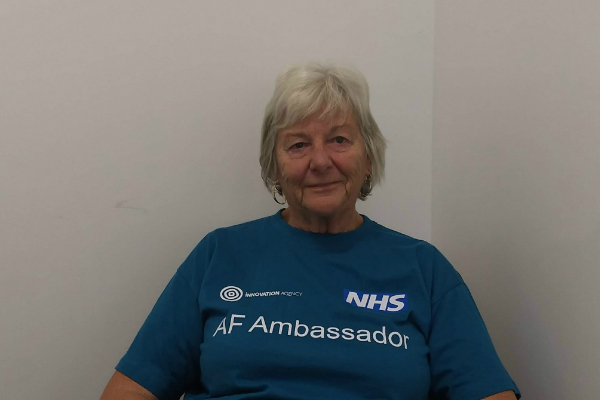 A Wigan patient ambassador has joined Health Innovation Manchester in a fight to reduce the number of strokes as part of Global Atrial Fibrillation (AF) Aware Week.
As part of AF Association's Global AF Aware Week (19-25 November 2018), ambassador Wendy Westoby is encouraging everyone to learn more about AF after experiencing first-hand the devastation it can cause.
Wendy, from Leigh, suffered an AF-related stroke in 2009 which affected her right side, movement and speech.
"I left hospital after four weeks with a wheelchair and hardly able to put a sentence together," she said.
"It was at that point I decided that if I recovered I wanted volunteer for research to hopefully help others in the future."
Wendy, aged 78, first noticed an issue with her heart around her 60th birthday but, despite many consultations with cardiologists, it wasn't until her stroke that she was diagnosed with AF.
Since diagnosis she has had several surgical procedures to pin-point the affected area of the heart and her AF is now controlled by medication.
Although still recovering from her stroke, Wendy became an AF Ambassador with the Innovation Agency, the Academic Health Science Network for the North West Coast, and uses the AliveCor Kardia devices to test the pulses of people at health roadshows, community events and even her local walking group.
Wendy, who is also a volunteer with the Stroke Association, said: "The test is very simple to do and I would recommend that if people are offered the chance to be tested for AF, whether in the community or through their GP, that they take up the offer. It could be lifesaving.
"Being an ambassador keeps me occupied and it is very rewarding.
"Hopefully we are having an impact by raising awareness of AF and preventing people having a potentially life destroying stroke."
AF is the most common heart rhythm disorder and is a common contributing factor for stroke. In AF, the heart's upper chambers contract randomly and sometimes so fast that the heart muscle cannot relax properly between contractions. This reduces the heart's efficiency and performance.
It can affect adults of any age, but it's more common in older people and is more likely to occur in people with other conditions, such as high blood pressure (hypertension) or a heart valve problem.
It is estimated that within Greater Manchester there are over 15,000 people who have AF but have not been identified, including 1,500 in Wigan.
It is estimated that if 85% of those with AF were identified and correctly treated, 371 strokes could be prevented, potentially saving 93 lives and £8million in savings to the NHS.
As part of the Greater Manchester Healthy Hearts programme, Health Innovation Manchester has provided NHS Clinical Commissioning Groups with mobile ECG devices which have been deployed to local GPs, practice nurses and practice-based pharmacists to assess how they can benefit primary care.
The devices have also been distributed to community groups through the AF Ambassador scheme. The AF Ambassadors can use the portable devices to identify those who may have AF and advise anyone with a positive result to consult their GP.
The volunteers are also raising awareness about AF and how early detection and monitoring can pave the way for better treatment for people with AF, including avoidance of illness, disability and premature death associated with AF-related strokes.
Each stroke is potentially life-threatening and those caused by AF could have been avoided through the correct medication or surgery.
Nancy McNeilance, Programme Development Lead, Health Innovation Manchester, said: "Global AF Aware week is a fantastic opportunity to raise awareness of AF and how early detection can be life saving for the people of Greater Manchester and Eastern Cheshire.
"The devices distributed by Health Innovation Manchester have already made a difference to awareness and detection rates through opportunistic screening within the community.
"We hope the devices continue to be regularly used to detect atrial fibrillation and become a useful product in preventing strokes and saving lives.
"Health Innovation Manchester is committed to championing new innovations and medical technologies in order to make a huge difference to the health and wellbeing of people in Greater Manchester."
Anyone who is concerned about Atrial Fibrillation is advised to contact their GP.