31 May 2018
What's NEWS2 you? GMEC PSC Deteriorating Patient Launch Event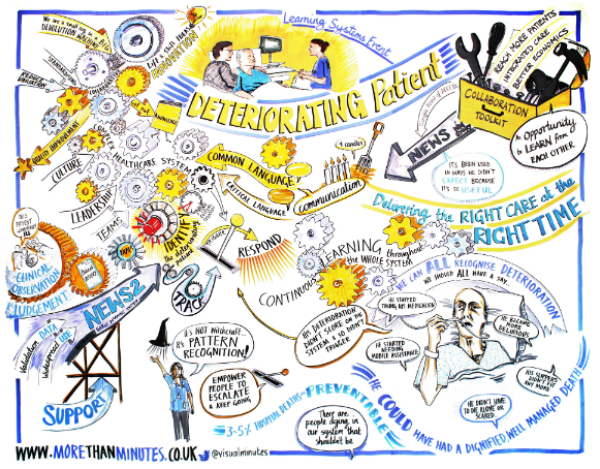 Poignant patient stories, implementation of quality improvement projects and how to enhance the outcomes and experiences of deteriorating patients were shared during the latest Greater Manchester and Eastern Cheshire Patient Safety Collaborative (GMEC PSC) Event.
GMEC PSC hosted the "What's NEWS2 You? Deteriorating Patient Learning System Event at the AJ Bell Stadium, Barton-upon-Irwell, with more than 100 delegates from organisations across Greater Manchester and Eastern Cheshire attending on 24 May.
The launch event focused on the implementation of NEWS2, across the region as a mechanism to improve communication of illness severity and response to acute illness. This aligns with NHS England's national ambition to standardise the use of the National Early Warning Score (NEWS2) in acute and ambulance settings during 2018/19.
Dr Emmanuel Nsutebu, Consultant Infectious Diseases Physician, Royal Liverpool Hospital, and Clinical Advisor for Sepsis (NHS England) and Deterioration (NHS Improvement) shared his experiences of deteriorating patients including the tragic patient story which fuels his passion for improving recognition and response to patients who are deteriorating. Dr Nsutebu explained how "widespread adoption of NEWS2 can help improve safety by standardising recognition and response to patient deterioration".
He was followed by Dr David Waterman, Consultant in Palliative Medicine, Stockport NHS Foundation Trust, and Palliative Care Clinical Lead for Greater Manchester and Eastern Cheshire Strategic Clinical Network, who discussed how NEWS2 could be a "trigger for future planning and decision making". He also reminded delegates that it is important to think about what matters to patients, not just what is the matter with them, sharing a quote from "The lives of others", Des Spence, BMJ.
Delegates also heard from Trish McDonnell, Occupational Therapist, Wrightington, Wigan and Leigh NHS Foundation Trust, who shared her experience of deterioration within her own family.
She encouraged delegates to recognise that not all deteriorating patient will score on a system and added that concerns by family members should be taken into consideration.
"Recognising deteriorating can be done by all. It is not just about saving lives, it can also give people a dignified death," she added.
Patient Safety Improvement Lead Joanna Garrett also shared West of England Academic Health Science Network's own NEWS implementation story, offering her tips and suggestions for successful spread of the tool before Alison Lynch, Chief Nurse and Director of Quality Governance, Stockport NHS Foundation Trust, added a local perspective to the discussion.
Attendees also had the chance to browse stalls during the Deteriorating Patient "Lunch and Learn" market place and engage with GMEC PSC regarding Quality Improvement and the support available to those implementing NEWS2.
Eva Bedford, GMEC PSC Clinical Lead, Deteriorating Patient, said: "This was the first of our deteriorating patients learning system events focusing on implementation of NEW2, and we are delighted with how it has been received by attendees. The presentations were varied and thought-provoking and our thanks goes to all the speakers who presented on the day.
"We hope everyone enjoyed the event and we look forward to supporting all providers from across health and social care to build a safe and inclusive learning system, spread innovation and continually support each other to improve the care of the deteriorating patient."
To view the documents and resources from the day, click here.
---
---
Presentation and Resources Downloads