29 Oct 2020
Professor Ben Bridgewater: Placing digital at the heart of transformation during COVID-19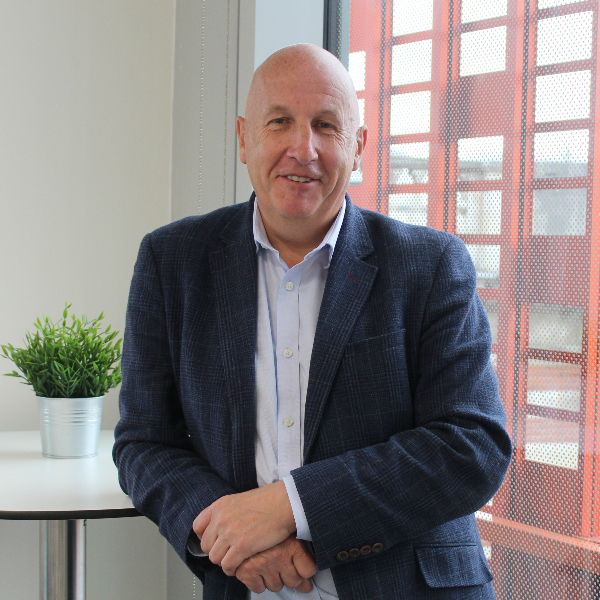 As part of a new blog series, Health Innovation Manchester has been speaking to leaders across Greater Manchester's health innovation and research system about the challenges, developments and learnings during the first six months of the COVID-19 pandemic.
In the second blog, Health Innovation Manchester's Chief Executive, Professor Ben Bridgewater, discusses the importance of embedding digital within innovation programmes and seeing it as more than just technology.
Even before COVID-19 hit, we had increasingly been viewing digital as important to pretty much all of the innovation work that we were doing in Health Innovation Manchester. We began to view it holistically and saw that there were very few programmes of work within the organisation that couldn't be more transformational or delivered more efficiently if they embraced digital.
I think when a lot of people talk about digital they talk about the potential benefits of data or artificial intelligence. But our definition of digital transformation within healthcare is the way in which technology is transforming the products and services that are provided to citizens for the diagnosis and treatment of disease and the maintenance of wellness.
It encompasses the infrastructure, the data, the analytics of that data and importantly how you use those insights within workflow. It places digital right at the heart of the way you redesign services and reimagine the way you do things. It enables you to spot opportunities for transformation and ensures you're creating services that clinicians and health and care staff want to work with and the care that patients want to receive.
Digital is also opening up more opportunities. But we recognised that to realise these opportunities you need several things in place.
Clear articulation of the problems you're trying to solve
Position the digital agenda at the "top of the shop" and top of the transformational agenda – not just as a supporting element
Enhanced digital capabilities within organisations, or central supporting bodies such as HInM
Consideration of the people, process, culture and technology changes for digital solutions
We'd already progressed with embedding this digital approach within HInM before COVID-19 began and we carried this thinking through as we looked to prioritise urgent programmes of work to support the system and support particularly vulnerable patients.
Through the GM COVID-19 Health and Care Digital Coordination Group, which comprises senior leaders from across GM, we established the right kind of governance to focus on four digital priorities; resolving information governance challenges to enable data sharing for direct care, research and secondary uses; accelerating deployment of the GM Care Record; supporting primary care with digital tools and outcomes; and using digital approaches within long-term conditions, such as mental health, and the care homes sector.
So, from the start of COVID-19 we had clear priorities, aligned with the needs of the system and the right governance arrangements. But we also needed to consider the people, process and cultural changes to allow us to make real and rapid progress.
The nature of innovation is that you get a bell curve of adopters within innovation, starting with a small number of pioneers, a growing number of early adopters and then the majority within a middle ground at the top of the curve. This then begins to decline with a smaller number of late adopters and laggards. No group is any better or worse but there is a tendency to go at the speed of the slowest, which can lead to delays.
While it's not ideal either to go with the speed of the fastest adopters, what we've learned during COVID-19 is that when there is a clear and present need for innovation to be accelerated and when people are driven behind a common ambition, more people are pushed towards the early adopter side of the bell curve, allowing us to move at a quicker pace.
With more people ready and willing to work towards innovation each workstream could then focus not just on adopting the technology itself, such as video consultation tools or apps for tracking COVID-19 symptoms in care homes, but how to ensure these innovations would be embedded in the system.
For example, we worked with stakeholders to create a set of standards and outcomes to optimise the use of video consultations and online triage in primary care. This was created through a series of co-design workshops with GPs, practice managers, digital leads and patients and will support practices to enhance care and treatment regardless of what digital products they have implemented.
Similarly with the GM Care Record, which collates information held by different health and care organisations into a single joined-up care record for all GM, has been delivered through a blended central team and close partnership working with localities, as well as a strategic relationship with the industry partner Graphnet. The creation of a Clinical Reference Group has also provided clinical leadership and scrutiny into how the GM Care Record is effectively maintained and developed to ensure optimum care and treatment, minimising clinical risks and assuring patient safety.
Approaching digital innovation in this way means we can make progress much quicker in a matter of weeks not months in some cases, and ensure that the transformational work is embedded fully and can provide measurable and lasting benefits both during the immediate pandemic and beyond.