03 Aug 2020
Guy Lucchi: Using the GM Care Record for Improving Direct Care and Population Health Insight Across Greater Manchester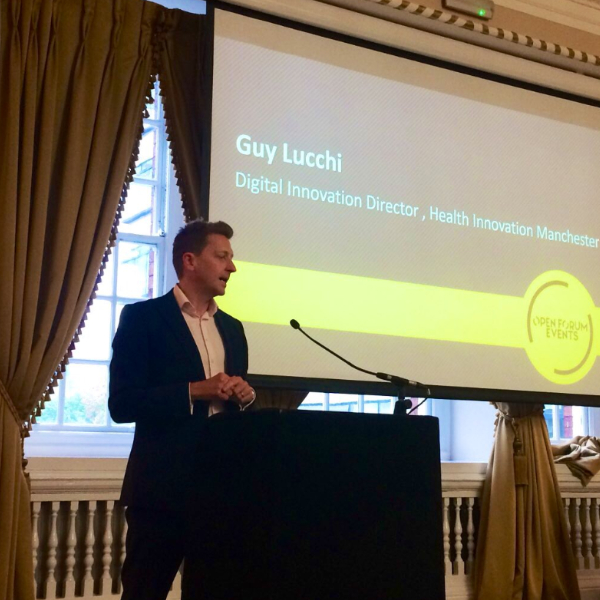 Presented originally as part of Digital Health's Virtual Summer School, Guy Lucchi, Digital Innovation Director at Health Innovation Manchester, discusses the GM Care Record and its introduction during the COVID-19 pandemic.
More about the GM Care Record:
The GM Care Record uses Graphnet's CareCentric shared record software to collate and share patient information from the city-region's 500+ health and social care providers such as GP practices, hospitals, community and social care teams. The area's 2.8m citizens benefit from the system by giving frontline health and care workers the vital information they need (e.g. medical records, test results and medications) to make the most informed decisions on a patient's care – regardless of organisation or geography they work in.
It went live city-region wide in May 2020, following an accelerated deployment and the introduction of new functions to support COVID-19 care and treatment.  In addition, the information held in the GM Care Record, is being used to understand the evolving health and care needs of the local population as the country emerges from each phase of the pandemic.
The GM Care Record: Improving Direct Care and Population Health Insight Across Greater Manchester
Using anonymised data from the GM Care Record, care commissioners are gaining a greater understanding of COVID-19 and its trends, to identify associated risks to the public such as:
• understanding information about patient access to services
• monitoring and managing the response by health and care services
• delivering enhanced care and treatment to patients
• clinical trials, research and planning
This data insight is driving the planning and delivery of services for 2.8m citizens across the region.
A Consultant Renal Physician, at Salford Royal NHS Foundation Trust, said: "This [GM Care Record] could be the single most important improvement to health care in Manchester in the last 10 years. Thank you and please pass on my thanks to all those who made this happen."