28 Jan 2020
Professor Ben Bridgewater: Focussing on my wellbeing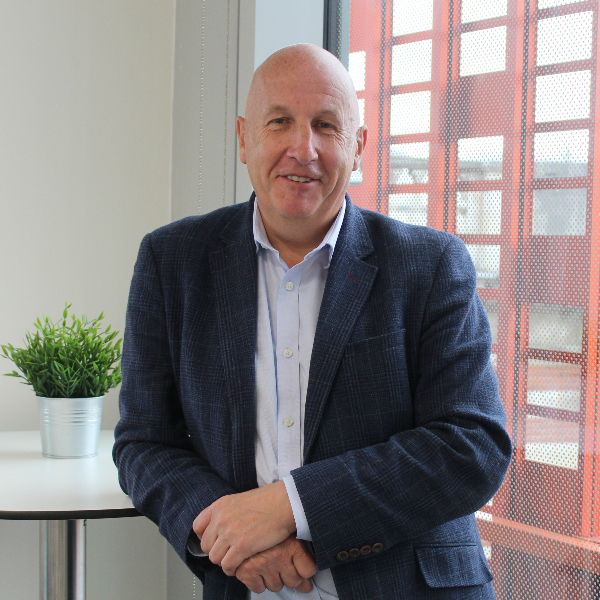 In his fourth blog of his personal health challenge series, our Chief Executive Professor Ben Bridgewater focusses on his wellbeing using online assessments and digital surveys.
So far on my journey towards health and wellness empowerment I have used free apps to screen my health, assess my risk of diabetes and build myself a targeted exercise and diet plan. I have also spent a small amount of money (£14.99) on purchasing a blood glucose monitor to screen myself for diabetes and pre-diabetes. It seems that overall I am in reasonable shape, but so far I have focussed on health, not wellness.
There is no generally accepted definition of wellness, however it is increasingly accepted that wellness is an important part of health. If something is important, you need to be able to measure it to get a baseline assessment, focus effort for improvement and to track changes, both from an individual and population-based perspectives. An analysis of a reasonable sample of patients across multiple ethnic backgrounds in Santa Clara County, US have defined 10 domains of wellbeing:
Social connectedness,
Lifestyle behaviours
Stress and resilience
Emotional health
Physical health
Meaning and purpose
Sense of self
Finances
Spirituality/religiosity
Exploration/creativity
This seems comprehensive and the researchers believe that these domains are consistent across their sample of interviews, but that the relative importance of a specific domain compared to others will vary across individuals and ethnic groups. Overall social connectedness is the most significant driver of wellness – and not surprisingly this could be both a positive driver – good company, support, identity – and a negative one – responsibility, criticism and burden. Other researchers have used 5 domains – physical, emotional, spiritual, emotional, social, spiritual and intellectual. Searching around on the internet for a few minutes I have found people claiming that there is anything from four to 12 domains of wellness. There is no consistency on this as far as I can see.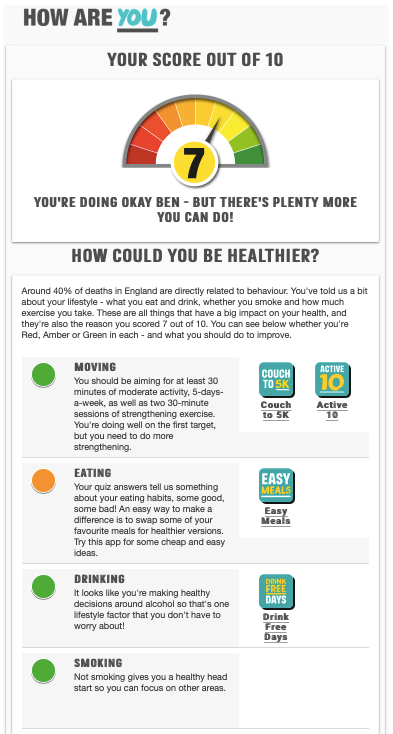 In my first health challenge blog, I used the NHS How are you? quiz to look at my wellness score and got 7 out of 10. More detail on my outcomes are given in the results – this is a very health related wellness score and does not pick out many of the domains referred to previously.
I am keen to get a more detailed overall wellness score but this is much more challenging than I would have thought. Many of the available apps have an angle – I do not necessarily doubt the intent of the individuals or organisations who have developed the products, but as you try to get an assessment you find yourself being drawn into signing up to a subscription-based diet plan or commercial offering to have your genes assessed.
Again, I am not in any way saying that these things cannot be beneficial, but for me (and I suspect for many others) these are things I want to be aware of and activate in the future on the basis of my need.
For now I want to focus on freely available products which will help in my empowerment journey.
Using the NHS website I have tried to expand my activity to include a more holistic perspective of wellness and have used the mood assessment tool.
I do get anxious from time to time (pressures of work, family etc.) but it can be hard to know whether your anxiety and mood swings are just part of normality or something more significant, and I felt I would benefit from some bench marking. The tool is easy to find and easy to use. This really confirmed my preconceptions that I have some variations of up and down in my mood and get a bit anxious about stuff from time to time, but nothing of any undue concern.
Working through this has made me think harder about wellness in general, and despite my physical health and mental state being OK, I still want to get deeper into a holistic wellness assessment and after some significant trial and error using internet and app-based tools. I have chosen to use the Dan Drupstein tool. This feels comprehensive to me – the opening sections are similar or identical to the NHS tool, but the questionnaire is long and deals with the the multiple domains of wellness.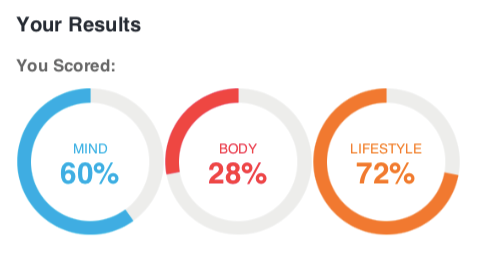 Some of the sections seemed slightly over the top to me, specifically the sections asking specific questions to pick up nutrient and vitamin deficiencies – I am not a nutritionist and do not want to get into a debate about the scientific basis of this, but just to say it did not feel that relevant to me, but of course I may be wrong. I did however like the sections which dug deeper into many of the psychological, sociological and financial domains.
The scores are designed to serve as visual indicators, with zero meaning a person would benefit from some lifestyle changes and working alongside some good health professionals. 100% means a person is in a very good place and would probably have some great insights to help others.
So I don't score quite so well on 'body' but I am OK in the other areas, and I have already taken some action as described in the previous blogs on my eating and exercise. There is nothing here which would drive me to take professional advice.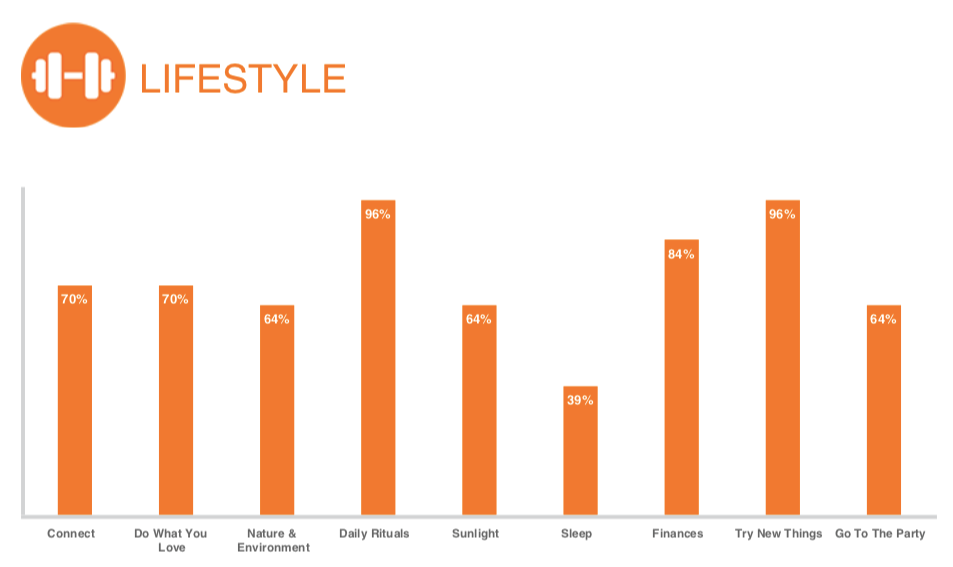 Beneath this there is a much more detailed analysis and I will just dig a bit deeper into my take on the lifestyle section. My score is as shown in the figure and my recommendations are to connect more with other people, connect more with nature and environment, apply some daily rituals, get more exposure to sunlight, sleep better, try more new things and always go to the party.
I find this useful advice overall – there are caveats of course – I would argue that I have made fairly extreme professional decisions through my career to 'try new things', which I would see as the basis from my current professional happiness, and I know myself well enough now to know that I actually quite an introvert and will not benefit from always going to the party, but I think this is really just about contextualising the advice in my understanding of my circumstances.
As I have been preparing this blog, a paper has come out in the BMJ suggesting that women can gain ten years and men seven years of life free of cancer, heart problems and type-2 diabetes from a healthy lifestyle which has added fuel to my fire and suggest I am barking up the right tree.
As a consequence of thinking this through, I have gone back to my use of apps on my phone and added more things around the Apple wellness app – I now have my steps and my nutrition, and have added in a mindfulness app (Stop, Breathe and Think). Using these apps has driven some "daily rituals for me", which include always using the stairs at work, a mindfulness walk each day to drive my steps and mental wellbeing (and pick up something healthy to eat for lunch) Last night I needed another 2,000 steps to complete my target and persuaded my teenage son to walk to the pub with me for a chat and a quick beer (my one so far this week), which was an unusual experience for us but a deeply rewarding one all round.
So a few weeks into the year I know what action I need to take on various aspects of my wellness, I have complied with the targets I set myself, I have expanded my concept of wellness, I have lost 2lbs and definitely feel better and more optimistic.
I will monitor progress but I might need to get more sophisticated with my approach to diet and exercise. I intend to decrease my risk of diabetes on the online tools, which of course in reality is not a binary thing, but the way the specific algorithm works once your BMI flips to normal rather than overweight, your score changes dramatically so as far as that is concerned losing 2 lbs is irrelevant, I need to lose 9lb.
I have spent some time researching, assessing myself and writing this up, but I have only spent an additional £14.99 on my glucose monitor. I think have taken this as far as I can on my own and next I am going to go and see my GP – this is because I want to take a view on the risks and benefits of screening myself for the key high risk diseases, cardiovascular disease, prostate and bowel cancer. More on this next time.