Greater Manchester
COVID-19: Digital Care Homes
Providing care homes with greater access to technology, tools & patient information
We are working with social care partners with an aim to provide care homes with greater access to technology, tools and patient information so that they are better equipped to protect and care for vulnerable residents in the event of a COVID-19 (Coronavirus) outbreak.
Some people are more at risk than others of becoming unwell very quickly and developing a serious illness. This is known as 'deterioration' and it is important that anyone who cares for individuals who are at risk of deterioration knows how to spot the signs, especially during the current COVID-19 outbreak.
For instance, if you work in a residential care home, or are a professional or family carer supporting someone in their own home, there are a number of tools available to help you recognise physical deterioration and take the appropriate actions.
Safe Steps information and resources for COVID-19 tracking and coordinating care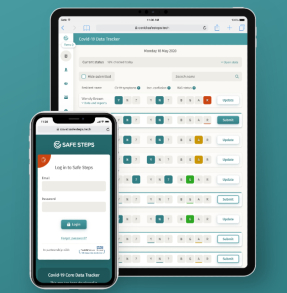 Health and care professionals from Greater Manchester have worked with tech company Safe Steps to develop a UK-first digital innovation that will help care homes to track COVID-19 and coordinate care with GP practices, social care and hospitals to optimally support vulnerable residents.
The tool allows care homes staff to input information about a residents' COVID-19 related symptoms into a tracker, which can be shared directly with the resident's GP and NHS community response team to ensure that a swift assessment and response can be put in place.
It also means that the NHS can more closely monitor how care homes are doing across the locality more easily thanks to a visual dashboard that displays the information at an aggregate level.
Following a successful rollout in Tameside and Glossop in April 2020, the COVID-19 tracker is now in use in more than 130 care homes across eight localities in Greater Manchester. In total it means more than 4,000 residents are being supported through the tracker, with more than 300,000 assessments taking place since April 2020.
The digital tracker has now also been adapted to record COVID-19 vaccination consent and when a vaccine is given to care home residents. It allows a real time dashboard view of each care home and their vaccination status, contributing to national efforts to vaccinate the most vulnerable and care home residents.
Read the latest news story about the rollout progress of  the digital COVID-19 tracker for care homes.
Read GP and clinical lead Dr Saif Ahmed's blog about the impact of the Digital COVID-19 tracker in care homes
NHSX has provided additional funding to support the deployment of the tool, as part of the national Innovation Collaborative and scaling of remote monitoring technology across England in response to COVID-19. Find out more about the NHSX Innovation Collaborative 
RESTORE2 information and resources for care and nursing homes
RESTORE2 stands for: Recognise early soft-signs, Take observations, Respond, Escalate.
RESTORE2 uses three tools (Soft Signs, NEWS2 and SBARD) which when used in unison create a robust process for early identification of the signs of deterioration and appropriate and timely escalating (if required).
It is a tool that has been designed to help care and nursing home professionals to:
Recognise when a resident may be deteriorating or at risk of physical deterioration
Act appropriately according to the resident's care plan to protect and manage the resident
Obtain a complete set of physical observations to inform escalation and conversations with health professionals
Speak with the most appropriate health professional in a timely way to get the right support
Provide a concise escalation history to health professionals to support their professional decision making.
RESTORE2 makes National Early Warning Scores (NEWS2) accessible to care and nursing homes through the use of soft signs of deterioration. It includes a communication and escalation protocol developed with GPs, ambulance providers and deterioration experts specifically for care and nursing homes to support them to raise concerns and a structured communication tool (SBARD) to ensure residents get the support they need.
As a recognised tool, RESTORE2 is a useful resource at this time as it can help care professionals spot deterioration from COVID-19 related illness or recognise non-COVID-19 related deterioration and act to decrease avoidable hospital admissions.
RESTORE2 has been also recommended for care and nursing homes by the British Geriatrics Society in their guidance: COVID-19: Managing the COVID-19 pandemic in care homes (BGS 25/3/2020).
RESTORE2 was originally created by NHS West Hampshire Clinical Commissioning Group (CCG) and resources can be downloaded from West Hampshire CCG's website.
Health Education England have produced a series of short training films on deterioration. They are all freely available in one YouTube Playlist and cover a variety of topics including soft signs of deterioration, calculating and recording a NEWS score and treatment escalation plans. Find out more about the videos here.