23 Jul 2020
Nine NHS Clinicians named MAHSC Honorary Clinical Chairs 2020
Nine distinguished individuals from across the NHS in Greater Manchester have been named as MAHSC Honorary Clinical Chairs for 2020.
Manchester Academic Health Science Centre (MAHSC), part of Health Innovation Manchester, awards the honorary appointments to individuals who have made a major contribution to their clinical speciality, including excellence in research and education.
Recently renewed until 2025 by the National Institute for Health Research (NIHR), NHS England and NHS Improvement, MAHSC represents the union of academic and health and social care partners in the Greater Manchester city region.
It brings together The University of Manchester, Manchester University NHS Foundation Trust (MFT), The Christie NHS Foundation Trust, Salford Royal NHS Foundation Trust (Part of Northern Care Alliance NHS Group) and the Greater Manchester Mental Health NHS Foundation Trust to deliver research and innovation through six domains aligned to Greater Manchester's areas of research strength and urgent population needs.
The MAHSC Honorary Clinical Chairs are awarded, on an annual basis, by The University of Manchester's Faculty of Biology, Medicine and Health Promotions Committee to individuals working within MAHSC Partners. There are currently 54 MAHSC Honorary Clinical Chairs.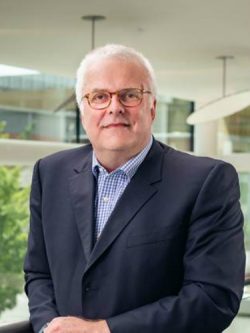 Professor Peter Clayton, MAHSC Clinical Director & Chief Academic Officer, Health Innovation Manchester, said:
"I would like to congratulate our new MAHSC Honorary Clinical Chairs on their appointments. Each individual exemplifies the world-leading health research, drive for improvements in health education and excellent patient care which underpins MAHSC. I look forward to working with our new Clinical Chairs to deliver on the ambitions of MAHSC and Health Innovation Manchester."
The new MAHSC Clinical Honorary Chairs for 2020 are:
Dr Andrew Bentley, Consultant in Respiratory and Intensive Care Medicine, Manchester University NHS Foundation Trust
Dr Frank Bowling, Podiatric Surgical Fellow, Manchester University NHS Foundation Trust
Dr Adrian Crellin, NHS England National Clinical Lead for Proton Beam Therapy
Dr Anna Kelsey, Consultant Paediatric Histopathologist, Manchester University NHS Foundation Trust
Dr Jimmy Limdi, Consultant Gastroenterologist at Fairfield General Hospital, Pennine Acute Hospitals NHS Trust (part of Northern Care Alliance NHS Group)
Dr Ralph Mackinnon, Paediatric Anaesthesia Consultant Royal Manchester Children's Hospital, Manchester University NHS Foundation Trust
Dr Monty Silverdale, Consultant Neurologist, Salford Royal NHS Foundation Trust (part of Northern Care Alliance NHS Group)
Dr Andrew Ustianowski, infectious diseases consultant and Principal Clinical Research Lead for North Manchester General Hospital, Deputy Clinical Director for the NIHR Clinical Research Network Greater Manchester and joint NIHR CRN National Specialty Lead for Infection.
Dr Rajamiyer Venkateswaran, Consultant Cardiac Surgeon and Director of Heart and Lung Transplantation at Wythenshawe Hospital, part of Manchester University NHS Foundation Trust