11 Oct 2019
ESCAPE-pain offers new approach for people living with arthritis in Greater Manchester for awareness week
Hundreds of people with chronic knee and hip joint pain in Greater Manchester and East Cheshire have improved their quality of life through an innovative new NHS programme. As part of National Arthritis Week, which runs until 13 October, Health Innovation Manchester is celebrating the success of the ESCAPE-pain programme, which is being rolled-out locally.
ESCAPE-pain is an innovative rehabilitation programme for people with chronic knee and hip pain known as osteoarthritis, a musculoskeletal condition. Around 8.75 million people aged 45 years and over (33 percent) in the UK have sought treatment for osteoarthritis. Despite the risk of side effects and high costs, treatment for osteoarthritis has traditionally been the prescription of painkillers, typically non-steroidal anti-inflammatory drugs (NSAID), with little practical support.
The ESCAPE-pain programme has been shown to make marked improvements to quality of life for people living with the condition. It focuses on exercise and education to teach people the skills they need to self-manage and reduce their pain.
The programme runs for a total of 12 sessions over six weeks with participants attending two, hour-long classes a week. Each class starts with a brief discussion about pain and how it can be reduced and is then followed by an individualised exercise programme.
It is estimated that 14,000 people have taken part in ESCAPE-pain programmes across 230 sites in the UK, including 350 at 12 sites in Greater Manchester and East Cheshire.
Joan Allard, from Holmes Chapel, transformed her quality of life after completing an ESCAPE-pain class at Holmes Chapel Community Centre.
Joan, aged 87, struggled with her balance and was not confident when walking. When she began taking part in ESCAPE-pain, she was very nervous and was sceptical about how much of an impact it would have on her pain.
However, after three weeks of ESCAPE-pain classes with instructor Josie Hurst, Josie Hurst, Joan began to feel a drastic difference; she had a reduction in pain and started to feel better within herself.
Josie said: "The structure of the class made her feel extremely comfortable and she felt that being around people with similar problems to her helped her gain confidence in the class – she felt like it wasn't just her suffering and knew that other people were going through the same thing."
Since completing ESCAPE-pain, Joan no longer requires the stick that she was dependent on and can walk up and down the stairs with ease. She has also joined the gym and attends at least twice a week with friends she met in the ESCAPE-pain sessions.
Joan completed the ESCAPE-pain programme with Everybody Leisure, which us supported by Health Innovation Manchester.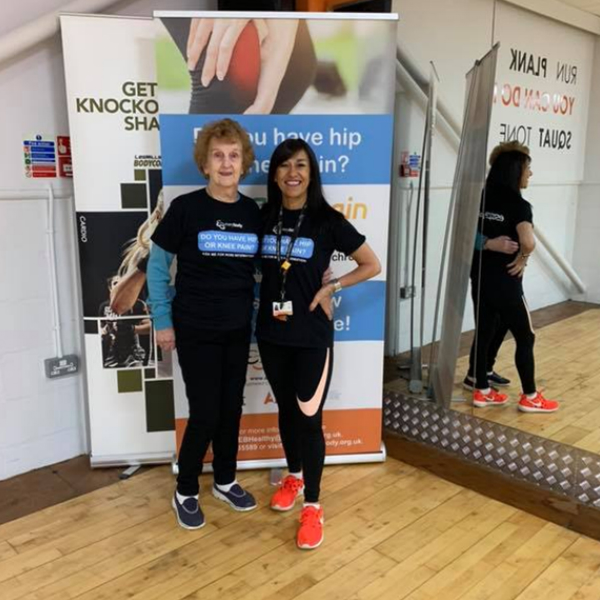 Nationally over 14,000 people have taken part in ESCAPE-pain programmes across 230 sites in the UK. ESCAPE-pain's rapid growth over the past two years has been supported by the NHS' innovation bodies, Academic Health Science Networks, NHS England, charity Versus Arthritis, and Sport England.
In Bury, ESCAPE-pain is delivered as part of BEATS, an exercise referral scheme for people with a recurring illness or medical condition who would benefit from an exercise programme in partnership with Bury Leisure.
To date, 100% of those who completed the course have gone on to further exercise programmes to continue improving their quality of life. The programme is currently delivered with a Sport England grant, however long-term sustainability routes have now been identified and tested for the provision to continue beyond
the grant.
Recent independent evaluations have also reinforced how much money the NHS saves by taking this approach, showing that every £1 invested returns over £5 in wider health and social value through people needing to use services and medication less. Overall it equates to an estimated £1.3 million total savings in health and social care for every 1,000 participants who undertake ESCAPE-pain.
Cath Barrow, Senior Programme Development Lead at Health Innovation Manchester, said: "Living with chronic pain can be a miserable and life-limiting experience.
"However, the ESCAPE-pain programme has shown that education, self-management and exercise can be life changing and help people to manage their pain effectively.
"We're proud to be supporting the delivery of this innovative programme which is transforming the lives of our citizens and supporting the NHS by saving resources and money."
Find out more about ESCAPE-pain