01 Mar 2018
Why you need to go to China to understand Manchester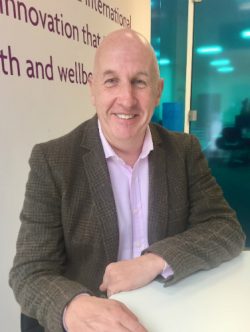 After four weeks as in my new role as Chief Executive of Health Innovation Manchester, I have just returned from a three-day trip to Wuhan, China. When I left my global role in DXC Technology behind, I reassured my wife that I would at least be in the country more often, if not around to help with the school run every day. So far it has not quite played out like that…
I was asked to travel as part of the Greater Manchester delegation led by Sir Richard Leese, Leader of Manchester City Council and Deputy Mayor of the GM Combined Authority. The delegation was configured to discuss collaboration around smart cities and innovative healthcare within the Wuhan City Circle.
I have never previously visited China and it is just extra-ordinary. It looks as feels so very foreign and the scale is, of course, incredible. To my shame I had never heard of Wuhan before this trip, but it is the 10th biggest city in China and the most important city in the centre of the country with almost 11 million inhabitants. It is the provincial capital of Hubei, which has a population of nearly 60 million. There is a long-term partnership agreement between Wuhan and Manchester dating back to 1986. One of the reasons for the visit is that Wuhan are in the process developing a new town of some 500 sq kilometres – which is an area roughly equivalent to a 9-mile belt running from Manchester to Leeds. Just imagine that challenge.
Smart Cities
Civic planning and smart cities are not things I have been exposed to before, but in our travelling group we had experts from the universities of Manchester, Manchester Metropolitan, Salford and Bolton, as well as from Transport for Greater Manchester and ThoughtWorks, a global digital transformation organisation with offices based in both Manchester and Wuhan. We have a lot of experts in Greater Manchester.
Meeting these delegates in such an intense way has fast-tracked my learning about Manchester and developed good relationships. It would have been worth flying half way across the world for this and this alone. Even the make-up of the group is interesting; public sector, private sector and collaborative academia, with technology and digital transformation at the heart, not as an 'add on'.
From discussions, it seems there is no one definition of a smart city but in essence I think that the term describes a large community enabled by technology, data and analytics, which is able to adapt to changing situations to make life better for its citizens. I have blogged about anti-fragile IT previously, and I really like the idea of an anti-fragile city.
So what does this mean exactly?
It is complex and can become very theoretical, but if I have understood things, a smart city should enable better planning and delivery of infrastructure, which will support necessary responses to climate change, health, social care and other challenges. And continue to be adaptive. This includes infrastructure in all its guises, from transport to technology.
So clearly initiatives such as improved next generation public transport supported by great citizen-facing technology can decrease carbon emissions and other pollutants, which will in turn impact the environment and improve public health.  The tech bit is important here as the first of the three digital truths is that the customer is already digital and will define the next move, with the consequence that most digitally sound organisations focus unrelentingly on excellent, digital, customer-intimate experiences.  It is not enough to have great public transport, you need to make sure that people use it.
It is also possible to imagine that constant monitoring of the environment, alerting citizens when air quality is poor, and then driving different behaviours in response by using civic nudges may also have a place in improving healthcare outcomes and decreasing pressure on health and care services, although this all seems to me to be a bit speculative at present.
Just imagine…
Every year we become over run in our GP practices and hospitals once the respiratory syncytial virus hits kids, causing bronchiolitis and leaving kids coughing, spluttering, infecting one another and accessing healthcare services. Most of these infections are mild and self-limiting, if distressing. Some are very serious.
Possibly the first sign of any outbreak will be an increase in web-browser searches for treatments for coughs in kids. Imagine if google analytics would pick up this trend for a specific locality and this would trigger bespoke communications to the relevant citizens, using targeted and community-based multi-channel approaches (direct text messaging to parents, digital advertising etc.) In turn, local services could quickly mobilise pop-up community paediatric respiratory services to keep as many kids in their normal place of residence as possible, decreasing the epidemic and taking pressure off GP and hospital services.
This would be a smart city making things better for citizens and the money saved as a consequence could be reinvested directly into frontline services. Wow.
Smart city as a platform
But picking up the concept of anti-fragility again, the term describes a system which is more than resilient so that it benefits from, rather than be damaged or left unchanged by, unexpected events.
Anti-fragile IT for example, is resilient, adaptable, secure and highly interoperable, thereby allowing the base technology platform to work with the next great thing which we have not yet discovered, rather than be disrupted by it.
Technology these days is all about platforms, and one of the concepts discussed in Wuhan was that of the 'smart city as a platform'. From a tech perspective this idea builds significantly on the current NHS plans of developing interoperability hubs (to bring together data across organisations and sectors to support better delivery at the point of care) and innovation hubs (particularly to enable the lifescience industry to leverage health and social care data to develop and test new medication).
The idea of the 'smart city as a platform' inevitably includes people, process, culture, politics and technology and it would bring together all aspects of life, including health and social care. We have long been saying that you cannot tackle current health care challenges inside the walls of the hospitals. You just might inside the walls of a smart city.