13 Mar 2018
Professor Jackie Oldham: Stateside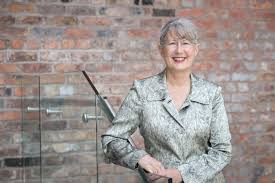 Professor Jackie Oldham Director, Health Innovation Manchester's Oxford Road Corridor (Innovation District), explains how a trip to the United States enabled her to realise how focusing on unique aspects of the Greater Manchester offer can be a far more effective means of engaging with potential businesses and collaboration opportunities.
"Ben Bridgewater, CEO, in his latest blog talks about why his trip to China helped to understand Manchester. This is so true of our recent trip to the States. We talk about the great things happening in Health Innovation Manchester but its not until you travel abroad that you truly realise the uniqueness of our offer and the international regard for our trailblazing entrepreneurship and developments.
NorthWest EHealth (NWEH) and Greater Manchester Clinical Trial Capability
I had the pleasure of meeting up with Martin Gibson (CEO) and Marie Kane (COO) of NWEH in a place called Danville, three hours drive north of New York and headquarters of Geisinger Healthcare. I was already in the States and Martin and Marie got held up due to bad weather but made it and, despite only 3 hours sleep, blew the minds of the Geisinger team responsible for clinical trials and electronic healthcare record (EHR) enabled developments. To cut a long story short, they have a similar sized population with similar health problems and EHR capability. Imagine a scenario where we would conduct EHR enabled clinical trials simultaneously in the US and UK combining and comparing data and expertise using tools developed in Manchester. This emerged as a mutual aspiration and discussions are already underway to drive forward joint developments.
Spring boarding into action
We also had an opportunity to hear more about Springboard – the Geisinger equivalent of Health Innovation Manchester and some of their initiatives such as  'Fresh Food Farmacy.' They also shared their 'Transformer' concept designed to reduce long term costs to a health and social care system by empowering communities to drive improvements in well being through 'transformer's  – members of a community who help make transformational change. We will be sharing more about these initiatives in due course.
Moving on we returned to New York and, with considerable support from the Department of International Trade – British Consulate General team, enjoyed a curry night attended by around 40 senior level executives interested in hearing more about NorthWest EHealth's expertise and the capacity and capabilities in Greater Manchester to deliver clinical trials. The Medicines Company, one of our longer standing collaborators, joined us in force and were able to share their experience of Manchester from a global industry perspective. There was so much interest in the Greater Manchester offer that CEO diaries were quickly re-arranged and we then spent much of the following day furthering discussions.
World Healthcare Congress (Europe) Manchester 5-7 March 2019
Jason Helgerson, Director of Medicaid, also joined us at the curry event. New York's Medicaid program provides services to over 5.3 million people with an annual budget in excess of $54 billion! Jason is already collaborating with the Health and Social Care Partnership and many more avenues for collaborative development were discussed. Indeed Jason has agreed to join us as a plenary speaker and panel member at the World Healthcare Congress (Europe) in Manchester 5 – 7 March 2019. If you haven't already please register your interests in attending by clicking here
Lessons learnt
In the past we've tended to target big trade events to spread the Health Innovation Manchester word but the bespoke nature of this trip focusing on a couple of unique aspects of the Greater Manchester offer proved to be a far more effective means of engaging with potential business and collaboration opportunity and leveraging new investment opportunity. Furthermore, attracting large Conferences to Manchester provides a chance to showcase our Greater Manchester assets, demonstrates our commitment to creating a dynamic dialogue to consistently improve innovative opportunities in health and social care innovation and is a big draw to potential collaborators and investment opportunity."