03 Jul 2019
Professor Ben Bridgewater – Driving digital innovation across Greater Manchester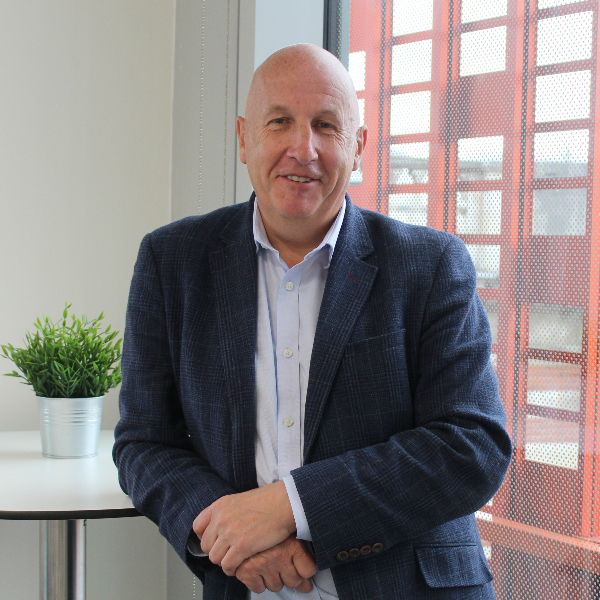 As the world becomes increasingly influenced by technology all industries are changing. The experience we all get from banking, transport, travel and retail have been transformed completely. Within these sectors, some organisations have become more successful in this digital world, some have ceased to exist all together and a whole host of new brands have developed.
Many of the successful organisations have a common model – they are brilliant at engaging with citizens through digital channels,  they deliver services that customers want and need, they generate data as a consequence which they use to enhance their service offerings, and they ensure that though a combination of understanding customers at an individual level, and constantly enhancing their offer, customers remain loyal to them.
Healthcare is just on the cusp of this transformation, with some novel organisations following a similar model to the other industries by delivering a good experience through digital as well as face to face channels, transforming the way primary care is provided. Developing new digital brands in this way is an important of modern economies, and policy is being focussed toward creating a landscape that facilitates this.
The NHS is not yet dominated by technology.  For the large part NHS organisations are providing similar services with no real change from the model of 20 years ago. There has been increasing digitisation of the NHS, but in hospitals the major focus has been on the systems which are essential for administration. Primary care services are more mature in their use of electronic systems.
Government in the UK has prioritised the Life Science industry as a key plank of the UK economy as it currently contributes over £70bn a year and employs over 240,000 people. The Life Science strategy includes laying down the building blocks to realise the full potential of the scale and diversity of NHS data, supporting uptake and adoption of innovation in the NHS, enabling the UK to remain competitive against fierce international competition and creating a roadmap to create whole new industries in diagnostics, digital technologies and advanced therapies over the next 20 years.
One aspect of the Life Science strategy is a fund of £37.5m to support a network of digital innovation hubs which are proposed to provide expert clinical research, data services, data analytics and sharing capabilities. This is closely linked to a related programme to develop better technology and infrastructure and data across the NHS, which include the development of a series of localities to be exemplars in the use of local health care records, and further emphasis on driving digitisation in the hospital sector.
In Greater Manchester we were successful in obtaining funding in the first wave of this local health care exemplar programme, and we were also chosen in open competition to receive funding from Health Data Research UK in the first phase of their digital innovation hub competition.
Our approach to digital innovation, which we have co-created with industry partners, is to accept that the Life Sciences sector is interested in working with the NHS and NHS data, but not just to get access to existing data, which we know can often be messy, incomplete and not accurate for detailed clinical purposes (not least because of aspect of the underlying coding structures). When we have spoken to many of our colleagues in the Life Sciences industry they tell us that what they are really interested in is working closely with those who deliver and pay for NHS services to develop, deliver and test new products and services for patients in the digital age. In the same way that technology has changed products and services provided in banking and retail, the Life Sciences industry understands that they will need to change to remain successful in a digital world. And to do this they need to get closer to organisations looking after patients and the patient themselves. It is exactly this type of collaboration we have progressed in our approach to digital innovation.
In our Health Data Research UK sprint project (the first phase of the digital innovation hub competition), we have worked with global MedTech giant Medtronic to digital transform the heart failure pathway for patients who have already had digital devices fitted for treatment of their condition. The devices can transmit patient vital sign data, through routers in smart phones or in the patient's home to a cloud platform, where sophisticated algorithms can detect early clinical deterioration. We have worked with Medtronic to establish a new clinical service for these patients, which means that we can act in near to real time when we detect early deterioration and initiate treatment for the underlying cause. We are measuring the effect of this approach, and are confident that it is making a difference. And we know that, as well as improving outcomes for patients, we can potentially save £3.2m, per annum in Greater Manchester and £62.5M per annum in England, if we can just ensure that existing patients with heart failure and implantable devices are treated in this way. This approach follows the model of digital transformation that has been so successful across other industries.
Our approach to digital innovation uses NHS data, and we are running trials and collecting evidence in the real world to measure the effectiveness, but what is more important to both the patients in GM and our industry partners is digital transformation of the patient pathway, which includes the collection and use of new data sources alongside existing data, This approach also generates new data on patients, which we can use to further enhance the care pathway, develop new approaches and test new therapies to deliver value. It is changing the way care is delivered and paid for – it is not just about the data and the technology.
And in Greater Manchester we are in a unique position to deliver these digitally transformed patient pathways because of our health care devolution and the maturity of the city region governance and health and care commissioning structures. We also have exceptional academic assets in the city region through our 4 universities, and there has been a particularly focus locally on research into digital healthcare and data science, which are both key to transforming outcomes. All of healthcare providers, universities and health and care commissioners are partners in Health Innovation Manchester, who are leading on digital innovation on behalf of the city region.
We have now submitted our full application to become one of the national Digital innovation hubs; success will attract funding of up to £5M over 3 years. Our approach is to develop the ability to run multiple projects such as our exemplar sprint project across GM at any one time. This is what our industry partners tell us that they want from a digital innovation hub, and this is the approach that we believe will deliver maximal benefits for our patients, best outcomes for the NHS and social care, and the best contribution for the Greater Manchester economy. GM has accepted that digital health innovation is a key focus in the local industrial strategy we have just agreed with government, so this initiative will benefit from the being at the heart of local and national policy.
We have  decided to prioritise our industry partnerships on the clinical areas which we know are of greatest important to the city region's population for several reasons; first that is the right thing to do to close the gap between poor outcomes in Greater Manchester compared to national averages, and secondly it allows us to layer our digital innovation activities on top of the activity and energy which is currently in place across Greater Manchester in these focus areas. We also have really strong academic assets in these clinical areas through our GM Universities.
At this stage we have only looked for partnerships for projects in the first phase of our proposed digital innovation hub and we have agreement of priorities and investment from Medtronic, Novartis, AZ, GSK, Boehringer and QIAGEN.  These projects target problems in heart failure, ischaemic heart disease, COPD, severe asthma, heart failure and pulmonary fibrosis. We also have agreement for partnership and investment from technology giants IBM, AWS, Graphnet and DXC.Technology. This high level of interest from industry gives us great confidence that an investment from HDRUK into our innovation hub will help us to develop a sustainable model which enables us to work with multiple industry partners to transform care for patients initially in GM, and we will be able to use all of our existing networks to scale these benefits nationally and internationally, and work at the heart of a collaboration across the HDRUK organisations to drive national benefit from the Life Sciences agenda.