01 Jun 2021
Professor Ben Bridgewater: Accelerating health innovation during COVID-19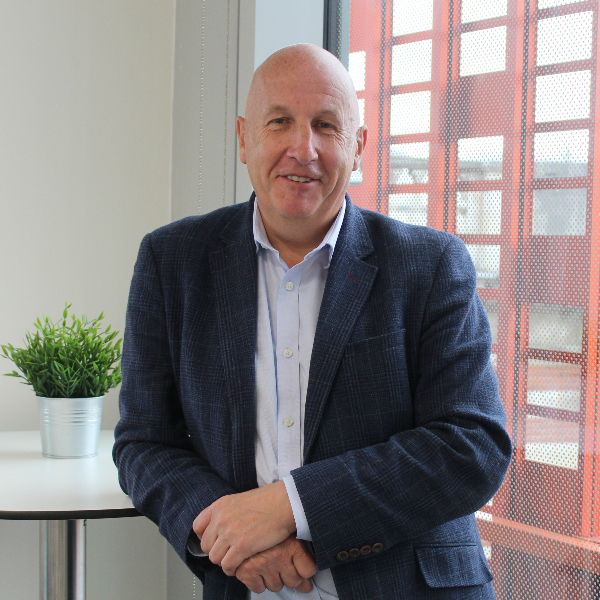 To coincide with the publication of Health Innovation Manchester's 2020-2021 impact report "Accelerating Health Innovation During COVID-19", HInM's Chief Executive Professor Ben Bridgewater shares his thoughts on the past 12 months. Within the blog, taken from the report's foreword, Professor Bridgewater discusses the role HInM has played as an integrated academic health science and innovation system, what has been learned about partnership working and how HInM is looking ahead to the next 12 months.
The health and care sector at all levels has this year faced one of its biggest ever challenges in responding to the COVID-19 pandemic, spanning from research and science, to care and treatment. It has meant a need to adapt, innovate and work together in new ways. In Greater Manchester we have risen to this challenge and there has been an extraordinary effort across direct care, research, digital innovation and industry partnerships.
As the pandemic progressed in the first few months of 2020 and began to impact our NHS and care services, we needed to rapidly mobilise and play an integral part of the COVID-19 response. Health Innovation Manchester has worked hard to stand up and play its part in this as an integrated academic health science and innovation system, working on behalf of the Greater Manchester city region. Having HInM as a single organisation working across academia, industry engagement and healthcare innovation, aligned to the needs of our region meant GM was ahead of the game when COVID-19 began.
We had been taking an increasing digital focus on our activities prior to COVID-19, and this was massively accelerated through the response, including full deployment of the GM Care Record to inform direct care and COVID-19 research; supporting the deployment of digital primary care solutions; and developing a novel COVID-19 symptom tracker and outbreak management tool for use in care homes.
We were able to make progress in months rather than years, and the reasons for this include acting to a clear set of priorities agreed across the whole system, ownership of the digital agenda at the highest levels of leadership, effective system-wide governance and a small amount of additional resource around the edges.
From a research perspective, within weeks of the pandemic starting, GM had linked our research, academic and clinical expertise to create the Research Rapid Response Group to prioritise COVID-19 the research response. This included understanding how the disease spread, how best to treat it and using data science to predict demand, with around 200 research projects being processed and funding leveraged via the UKRI COVID-19 Research Call.
We would like to thank all our partners for their cooperation and collaboration during the pandemic, as well as continuing to share vital learnings and insights in order for us to constantly improve and develop as a system. This was particularly apparent in December as system partners collaborated with HInM for an impact report on Greater Manchester's collective research and innovation response during the first six months of the COVID-19 pandemic. The report features examples of new innovations, case studies and interviews with system leaders in GM as they reflected on the pandemic.
Internally within HInM, COVID-19 has enabled us to use the resources and talents within our staff, including our backgrounds, experiences and different way of viewing problems, to join behind specific priorities. It means the various elements of our work and key capabilities have been aligned to common goals and projects in a way we haven't done before and it is something we'll be looking to continue.
We've also adapted to new technology and systems within our organisation, recognising the value of remote networking channels and collaboration tools as we work remotely, across teams and organisations. We would like to take this opportunity to thank all staff at HInM for their hard work and dedication for continuing to accelerate innovation and make this a year of success, despite the many challenges we have all faced both professionally and personally.
As we look ahead to 2021-22, we developed a balanced portfolio of innovation projects to meet the priorities and needs of the city region. We are also continuing to enhance our internal operating model to ensure that we are as effective and efficient as possible to maximise the benefits delivered for our stakeholders.
Partnership working, setting clear goals and aligning work to the priorities of the system are not new ideas, but the value they provide within innovation has never been felt more acutely as it has during the COVID-19 pandemic.
Read the Health Innovation Manchester 2020/21 Impact report