06 May 2020
Greater Manchester universities and NHS volunteers produce vital protective equipment to support frontline fight against coronavirus
Dedicated staff and volunteers across Greater Manchester's universities and NHS organisations have supported those working on the frontline in the fight against COVID-19 by producing and donating vital personal protective equipment.
In a combined effort, universities have utilised 3D printing capabilities, workshops and fashion garment technicians to support the creation of protective face masks, headbands and medical scrubs for NHS and social care staff caring for patients on the frontline and in social care.
It follows scientists and clinicians across Greater Manchester joining together to form the Research Rapid Response Group to find ways to beat COVID-19 and save lives. Overseen by Health Innovation Manchester, the group harnesses the power of hundreds of researchers from Greater Manchester's four universities, as well as leading clinicians from NHS Trusts.
3D Printing headbands and visors for NHS staff
The University of Manchester has used nearly 50 3D printers to produce mask headbands for protective facemasks worn by NHS medical staff. A team of technical experts have volunteered to operate the printers while the face shield is laser cut by regional commercial suppliers and assembled at Salford Royal NHS Foundation Trust. Technicians have also used 3D printers to produce PPE visors for Manchester University NHS Foundation Trust (MFT).
Professor Brian Derby is coordinating the 3D printing response at The University of Manchester. He said: "3D printing has allowed the Greater Manchester-based team to progress rapidly from concept, to prototypes, which allowed infection control teams to validate the design and enable the production of PPE acceptable for use in the regions hospitals."
The University has also donated a stock of PPE including 47,660 pairs of nitrile gloves and 200 pairs of protective goggles donated to local health practices to help safeguard doctors and nurses. Read the full story on The University of Manchester's website
A University of Manchester academic has also helped Manchester City Council coordinate and test thousands of pieces Personal protection Equipment (PPE) so that they could be delivered to key workers in the city. The council has received approximately 150,000 pieces of PPE via companies and donations from across city. But before the equipment could be distributed, the Council needed to check that it was suitable for use by key workers. Dr Obuks Ejohwomu, Director Commercial Project Management in the Faculty of Science and Engineering, led a team of experts from across Manchester, Coventry and Brighton Universities and organised video conferences, e-mails, physical testing and a wrap-up video conference all in under eight calendar days to support the council. Read the full story on The University of Manchester's website
Producing visors for the frontline in Salford
The University of Salford's Maker Space, a state-of-the-art engineering and digital fabrication facility, has developed a visor prototype and sent to commercial fabricators and university technical departments in the North West to scale production.
Biomedical staff have also donated around 37,000 pairs of disposable gloves, over 500 lab coats, 100 pairs of safety glasses and 10 full body suits, as well as a supply of hand sanitiser to Salford Royal NHS Foundation Trust.
Professor Sheila Pankhurst, Dean of the School of Science, Engineering and Environment, said: "Staff acted swiftly and with great generosity to get much needed supplies and equipment to the frontline of this battle. When we put the call out for volunteers, we were inundated with staff wanting to help." Read the full story on the University of Salford's website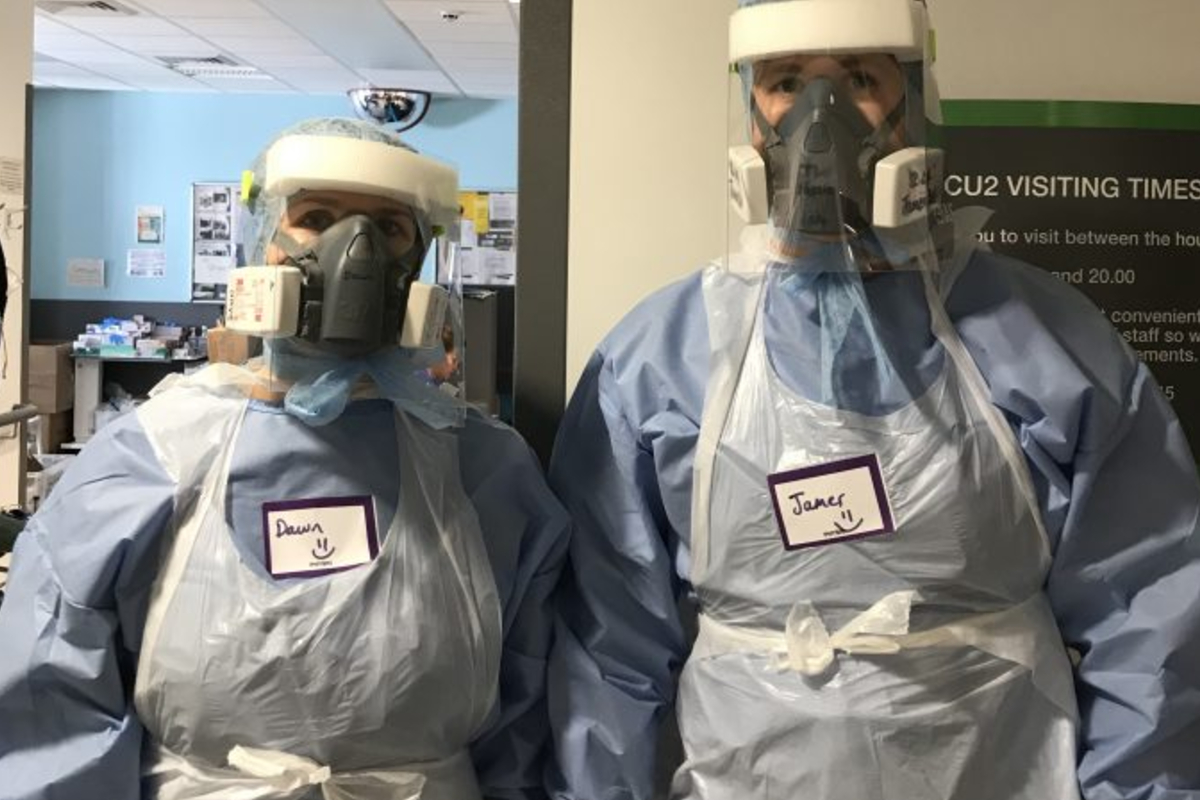 Staff and local volunteers at Salford Royal NHS Foundation Trust, part of the Northern Care Alliance NHS Group, have also supported their colleagues by producing visors.
The prototype for the visor was created by Dr Glyn Smurthwaite, Consultant Anaesthetist and Dr Stuart Watson, Head of R&D Services in Medical Physics, who agreed the final design concept from home while in self-isolation.
A production line was quickly set up with staff and volunteers from the community with more than 28,000 visors now made and distributed to staff.
Glyn said: "We knew that staff needed vital face protection to stay safe so we decided we needed to act fast and began producing the visors. We sourced foam, plastic, elastic and staples and set up our own little production line at the hospital." Read more on the NCA Research and Innovation website.
Supporting production of medical scrubs and gowns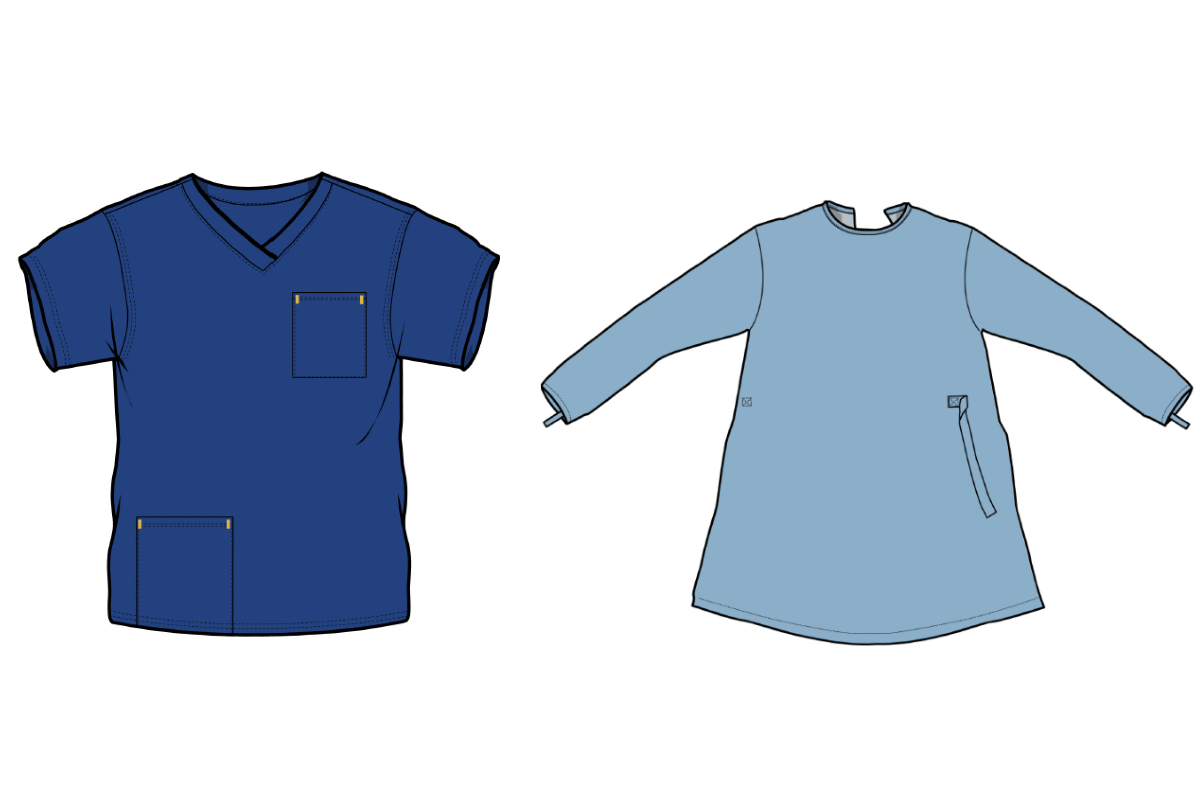 Manchester Metropolitan University's Garment Technical Services team within the University's Manchester Fashion Institute have put together a technical template to produce medical scrubs and gowns in bulk and have worked with the Business Development team to source raw materials for the mass production of protective clothing for hospital workers. Read more on the MMU website.
Academics at the university's Department of Natural Sciences have also donated boxes of gloves, overshoes and protective suits to NHS hospital staff.
Professor Liz Price, Head of the Department of Natural Science, said: "Donating this equipment is just one way in which we as University are able to aid the efforts of this ongoing battle, as we now work to find ways in which we can continue to make a meaningful contribution." Read more.
Donations of PPE, including 2,400 aprons, 4,000 sterile wipes and more than 5,300 disposable gloves, from the University have also been welcomed social care charity The Fed. Read more.
The University's 3D printing hub PrintCity is also producing thousands of parts for personal protective equipment (PPE) for hospital workers.
Experts have also designed a new device which aims to help prevent the spread of germs and viruses through reduced contact with door handles with the final product designs made available online for anyone to use. Read more.