03 Mar 2018
Along the way in 90 days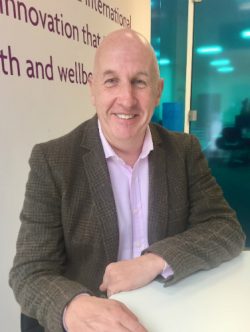 The importance of setting out your stall during the first 90 days in a new leadership role is widely recognised. It's that short time when people still afford you the luxury of being 'new' and look with interest at your approach and style. It is also a time when you are most able to ask the stupid question, be open about what is needed going forward and be influenced by people who work in and with the organisation.
During my first three months at Health Innovation Manchester I have spent time connecting with a range of stakeholders across Greater Manchester.  Having worked on the patch as a cardiac surgeon for 20 years I have a good idea of who's who and how it all works, but I have been genuinely impressed by the amount of goodwill and commitment from leaders to do the right thing by our citizens.  No doubt this has been further enhanced by binding our 37 NHS organisations and local authorities together through the devolved Health and Social Care Partnership (GMHSCP), under Jon Rouse's leadership.
However, the system is incredibly complex and we are trying to do a lot at once.  The shared governance and accountability we have in place across GM should allow us to make decisions more easily and move quickly – the coming year will test this as we now need to deliver.
At Health Innovation Manchester, a key part of our role is to reduce barriers and blockers to allow innovation to flourish.  It's about conducting world leading research, attracting industry and deploying innovation into frontline care.  Much of this will be built on the relationships we have with people and organisations across the system – we need to be the most collaborative body in the region.
This was perfectly demonstrated last week at the Association of the British Pharmaceutical Industry (ABPI) national conference, where a multi-agency team from GM's public and private sectors co-delivered a session about the difference devolution has made to improving health and social care and the benefits of Health Innovation Manchester.  This was then illustrated by two real case studies on the GM COPD programme and the cancer vanguard pharma challenge.  On that day, we weren't representatives from our relevant organisations, we were Team GM.  The conference has further enhanced the memorandum of understanding we have in place with the ABPI and several opportunities have been generated from industry. It was a proud moment.
Over the last month I have also been heavily involved in preparing a bid for Greater Manchester to become a Local Health and Care Record Exemplar.  Once again this has required a tremendous about of collaboration from agencies across the system, including GMHSCP, HInM, GMCA, the University of Manchester, the Salford Global Digital Exemplar, Manchester FT, Connected Health Cities and industry partners.  The final bid was ambitious and compelling and a true reflection of the fantastic digital assets and capability we have here in Greater Manchester.
At the same time, I have been working closely with the National Institute for Health and Care Excellence (NICE) on our shared Data Lab programme which involves using routinely-collected information to test and evaluate new and existing treatments and produce new big-picture health insights.  More on this will be announced soon.
As well as collaborating with partners externally, we have also been doing some development work internally.  Given the size of the HInM agenda and complexities across the system, we need to ensure that our workforce has a collective view about the direction of travel.  Our senior leadership team and staff at all levels have been involved in co-producing a rich picture of the GM system and the role we play within it.  It's been a valuable process and once complete I will share it.  This OD approach is also informing the development of our refreshed Business Plan, which I will be taking to the HInM board later this month.
Crucially, our Business Plan isn't just for HInM as an organisation, it will support and enable the delivery of innovation into the wider health and social care sector.  We have a unique opportunity to build on devolution and deliver further, better and faster.  To do this we need to work together, crossing organisational and professional boundaries and extending leadership beyond the usual limits of responsibilities and authority.
Now that my honeymoon period is over, I am now focused on delivering this real and lasting change.  This is our big opportunity to improve the population health of the people of Greater Manchester now and for the future.