Executive Team
Accelerating innovation that transforms health and wellbeing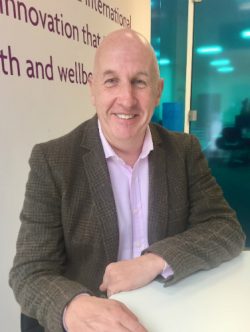 Ben Bridgewater
Chief Executive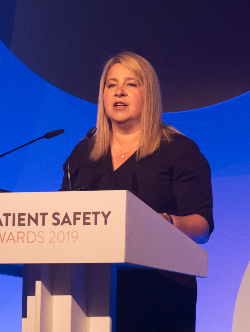 Amanda Risino
Chief Operating Officer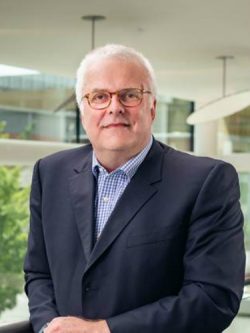 Prof Peter Clayton
Chief Academic Officer
Ben Bridgewater
Chief Executive
Ben Bridgewater is Chief Executive of Health Innovation Manchester, an academic health science system that brings together health, academia and industry. The mission is to accelerate innovation into practice at pace and scale, so to transform the lives of Greater Manchester's 2.8 million citizens.
He is a leading expert on health informatics, national clinical audit, clinical governance, healthcare transparency, patient experience measurement and digital transformation in healthcare, publishing numerous high profile academic outputs and delivering innovative IT tools for disseminating clinical outcomes to professionals and the public.
Prior to joining Health Innovation Manchester, Ben worked for global technology company DXC Technology as the Director of the Healthcare and Lifesciences Global Build Advisory Team. Until January 2016, he was a cardiac surgeon at the University Hospital of South Manchester for nearly 18 years.
Ben also provided clinical leadership for the UK national cardiac audit programme, as well as leading analyses that provides UK hospital and cardiac surgery mortality rates to the public. The programme is world-leading and associated with a 50% reduction in risk-adjusted mortality over 10 years.
Amanda Risino
Chief Operating Officer
As an Executive member of the Health Innovation Manchester Board, Amanda's role is to build a culture of partnerships and collaboration to create a seamless pathway from discovery, science and industry engagement through to adoption and diffusion at pace and scale.
Amanda is passionate about transforming Health and Social Care by ensuring that strong relationships are built between clinicians, industry and academic partners to introduce cutting edge innovations, which will overall improve the Greater Manchester population's health and wellbeing. She is proud of the contribution we make in HInM to improving the lives of patients and public. Amanda is a strong advocate of patient and public involvement in the co-design of health and social care. She strives for continuous improvement and is keen to deliver the best possible results for all concerned, to ensure that Manchester becomes a great place to live, work and grow old in.
Prof Peter Clayton
Chief Academic Officer
Professor Clayton graduated from Manchester University Medical School in 1984 (Distinction in Paediatrics), having obtained a first class degree in Physiology & Pharmacology in 1981. He did his early paediatric training around Manchester before embarking on an academic career in Paediatric Endocrinology. His MD thesis was on "Growth Patterns after Neuroaxis Irradiation in Childhood". He spent time at the University of Virginia, USA as a MRC Travelling Fellow in 1990/1 with his work there primarily directed at molecular endocrinology in the laboratory.
He returned to Manchester to establish a research group of both clinicians and scientists, working under the broad remit of investigating normal and abnormal growth from clinical, biochemical and molecular perspectives. He took up a Senior Lectureship in Child Health in 1994, and was promoted to Professor of Child Health and Paediatric Endocrinology in 2001. He was lead for the Division of Human Development in the Manchester Medical School from 2001-2007. He was Director of the Institute of Human Development in the Faculty of Medical & Human Sciences 2014-2016.
He has >200 publications on clinical and basic science aspects of paediatric endocrinology. He has served on the editorial boards of a number of endocrine journals (Hormone Research in Paediatrics, European Journal of Endocrinology and Clinical Endocrinology). He has been on the Councils of the Growth Hormone Research Society, the Society for Endocrinology UK, and the European Society of Paediatric Endocrinology, being Chair of the ESPE Corporate Liaison Board. He is currently Secretary-General for ESPE. He is on the medical committee of the UK Pituitary Foundation.
Prof Ian Bruce
Academic Director
Dr Tracey Vell MBE
Clinical Director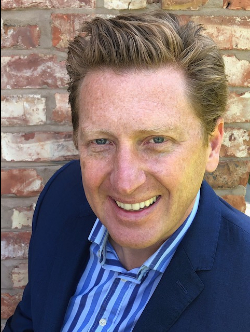 Guy Lucchi
Digital Innovation Director
Laura Rooney
Director of Corporate Affairs & Strategy
Prof Ian Bruce
Academic Director
Professor Bruce is a Professor of Rheumatology and an NIHR Senior Investigator at the Arthritis Research UK Centre for Epidemiology, Centre for Musculoskeletal Research, Division of Musculoskeletal and DermatologicalSciences.
His clinical work is at The Kellgren Centre for Rheumatology, Manchester University Foundation Trust. He is also Director of the NIHR Manchester Biomedical Research Centre and Centre Academic Lead for the NIHR Translational Research Partnership in Joint and Related Inflammatory Diseases.
Dr Tracey Vell MBE
Clinical Director
Dr Vell has worked in general practice for 25 years. She joined the LMC 24 years ago as a GP Registrar representative and becoming chief executive in 2013.
In 2013 also became the Chair of the Association of Greater Manchester LMCs. She persevered to bring primary care to the GMH&SC Devolution programme and now works as associate lead for primary and community care for the GMHSCP.
She has recently also taken on the role of clinical director for Health Innovation Manchester to spread innovation across health and care settings.
She supports,advises and works amongst GPs and is passionate about the need for front-line clinicians to direct strategy with an approach that tackles wider determinants of health.
She was awarded an MBE in the New Year's honours in 2018 for her work.
Guy Lucchi
Digital Innovation Director
Guy Lucchi joined Health Innovation Manchester's executive team in June 2019 as Digital Innovation Director.  He is responsible for leading the organisation's digital transformation programme, across Greater Manchester's £6bn devolved health and care system. Guy is a highly experienced digital leader with a proven track record in shaping and delivering large and complex digital health strategies and transformation programmes.
He has spent much of his career as a Chief Technology Officer with global IT giant DXC Technology (merger of CSC and HP enterprise services), leading on digital healthcare and life sciences initiatives across the Group.  Notably, Guy was the CTO for DXC's product portfolio that has led to significant digitisation of administration and electronic patient record systems across much of the NHS.  He was also instrumental in developing DXC's global healthcare cloud strategy.
Guy passionately believes that building high quality and sustainable wellness, health and care services can only happen if we leverage the benefits of existing and emerging technology. This is not just about digitising existing services, the change required is much more fundamental.
He was born and bred in Manchester and studied at the University of Salford.  He was named as 'Technology Consultant of the Year' in 2013 by the Management Consultancies Association (MCA).
Laura Rooney
Director of Corporate Affairs & Strategy
Laura is responsible for overseeing delivery of HInM's strategic priorities across the research and innovation portfolio, working closely with the rest of the executive team.  She has a broad portfolio including overseeing strategy and planning, stakeholder engagement and partnerships, strategic communications and public engagement.
Laura has spent the last 12 years working in senior roles across the NHS in Greater Manchester, both in commissioning and provider organisations, and prior to that worked in corporate agencies specialising in business to business PR.   She has a wealth of experience in managing complex and sensitive issues, strategy development and delivery, media relations and corporate affairs.