Local Health and Care Records in Greater Manchester
Across Greater Manchester, progress has been made on joining up digital systems between NHS and social care services within the same borough.  All 10 areas will have a local joined up system in place by the end of 2019, supporting the secure and safe sharing of information to inform your care.
Around 1,300 patient records are currently accessed via Graphnet's CareCentric system across Greater Manchester every day.  300 GP practices now actively use the system, along with 8 acute trusts (remaining 2 to go live in summer 2019) and all 3 mental health trusts.  Work is also well underway to bring all 10 Councils and 7 community care providers on to the system.
Because people travel around Greater Manchester for care and treatment, we are also working on developing new technology standards so that professionals involved in your care can access and share information wherever you go ensuring the right information can be accessed when you need care or treatment.
For instance, the reason we can use our debit cards abroad is because the global banking system is built using technology which operates to common high standards.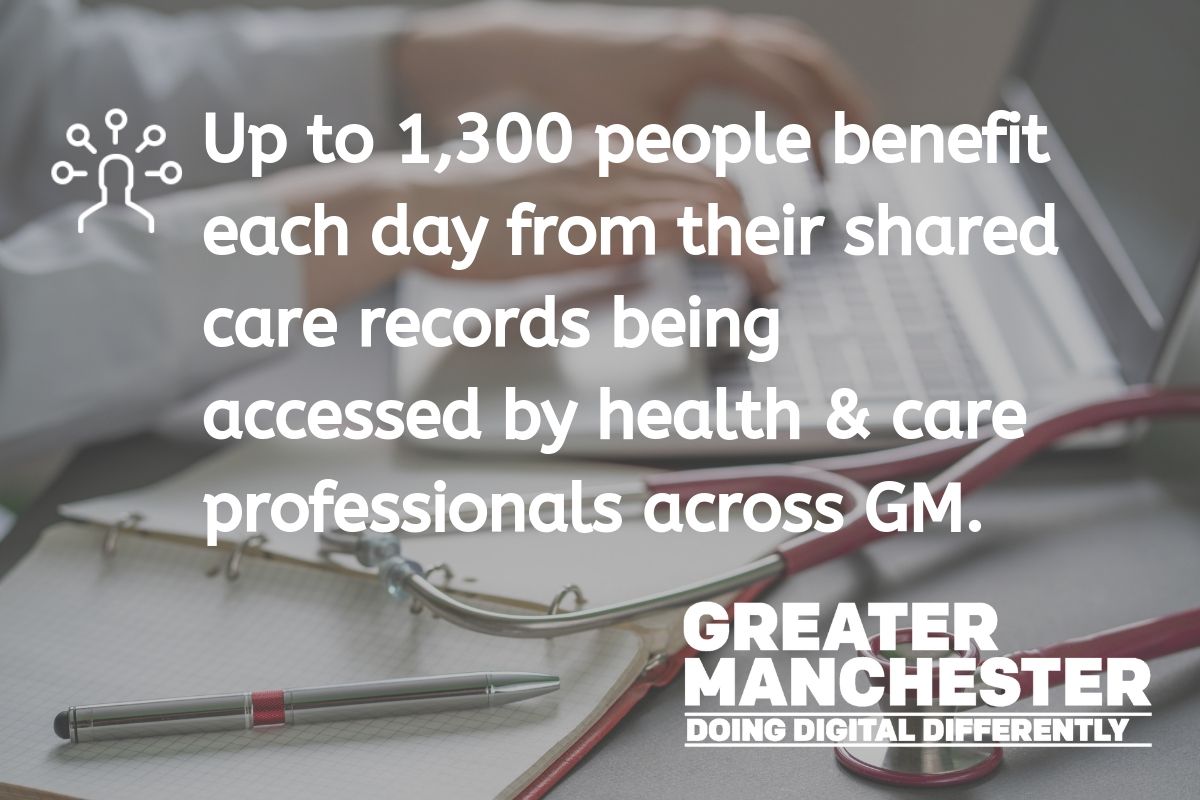 Through the Local Health and Care Record (LHCR) programme, NHS England is working with five areas of England, including Greater Manchester, to develop this common standard technology for health and care services that will eventually allow critical patient information to be accessed safely and securely wherever you might be including outside of GM.
We are in the process of building this common standard technology for Greater Manchester that will allow us to move beyond the basic ability to access information locally, to be able to maximise the big benefits technology can bring to transform how we do things.
This includes developing an advanced technology solution that allows data from multiple sources to be re-used by a variety of systems, from different providers, to:
inform routine and emergency care;
support people to manage their own health and care through digital tools and apps;
present data more clearly and easily;
identify gaps in care proactively;
reduce variation and improve standards of care for all.
LHCR in Greater Manchester will also support the analysis of data in health and care research to diagnose and treat diseases more effectively, as well as helping people to maintain good health and wellbeing.
We are first testing this technology in two priority areas – supporting people with dementia to live well and detecting early signs of frailty in older people. This will include providing patients and carers with access to their own information, as well as professionals.