20 Sep 2018
Showcasing Research and Innovation Assets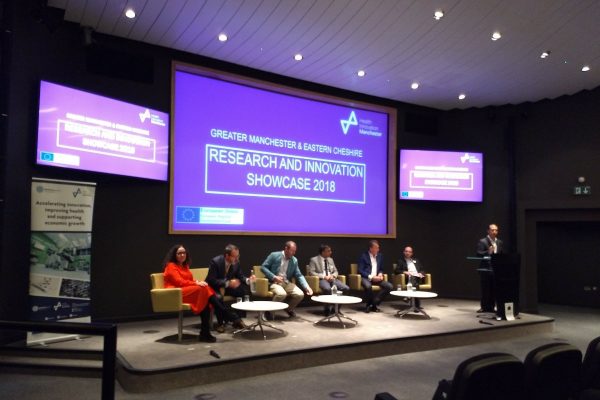 The first Greater Manchester and Eastern Cheshire Research and Innovation showcase connected SMEs to the many research and innovation assets across Health Innovation Manchester's academic health science and innovation system.
The event, which took place at Alderley Park Conference Centre on 19 September, gave those with innovations the chance to connect with experts and state-of-the-art infrastructure in order to develop and evaluate their ideas for wide scale adoption across the health and social care system.
Colleagues from academia, the NHS and industry showcased the opportunities available during informative presentations and panel discussion sessions.
Speakers included Chris Doherty, Managing Director of Alderley Park, who took the audience through the site's the regeneration project and plans to support 300-400 companies on the park and Lloyd Gregory, Director of Strategy and Academic Partnerships at Health Innovation Manchester, who explained the complex Greater Manchester system and how devolution has given the region a unique opportunity to improve healthcare for citizens.
The showcase of academic assets featured presentations from Professor Rebecca Lawthom (Professor of Community Psychology, Manchester Metropolitan University), Professor Paul Townsend (Associate Dean of Business Engagement, University of Manchester), Professor Ben Light (Professor of Digital Society, University of Salford), Saqab Rasul (SME & KE Manager, University of Manchester) and Jane Jones (Enterprise Fellow, Manchester Metropolitan University).
Each explained how their institution is committed to supporting businesses with innovations, including delivering world-leading research and working through discovery science to clinical application.
After a short break, the second half of the event featured presentations focused on the NHS and industry engagement. It included information from Alison Robinson (Divisional Research Manager, Manchester University NHS Foundation Trust), Natalie Garratt (R&D Lead, Northern Care Alliance NHS Group), Sarah Leo (Head of Research and Innovation Office, Greater Manchester Mental Health NHS Foundation Trust), Elaine Blowers (Lead Cancer Research Nurse, The Christie NHS Foundation Trust) and Nicola Heron (Head of Collaborative R&D, Medicines Discovery Catapult). The session was chaired by Dr Richard Deed, Associate Director for Industry (Health Innovation Manchester) and explored how healthcare organisations could provide clinical expertise at every stage of product/service development "from bench to bedside".
Attendees also had the chance to visit stands by other research and innovation assets available in the region with stalls held by:
University of Manchester
University of Salford
Manchester Metropolitan University
Manchester University NHS FT
Northern Care Alliance NHS Group
The Christie
Medicines Discovery Catapult
Manchester Cancer Research Centre
Manchester Clinical Trials Unit
NIHR Clinical Research Network Greater Manchester
NIHR Manchester Biomedical Research Centre
NIHR Manchester Clinical Research Facility
The Stoller Biomarker Discovery Centre
Imaging Facilities
Manchester University NHS Foundation Trust (MFT) Diagnostics and Technology Accelerator (DiTA)
Manchester Molecular Pathology Innovation Centre (MMPathIC)
Biohub of Alderley Park
NHS@Alderley
Trustech
To read a twitter thread from the day click here.