30 Apr 2018
New mobile app to support ambulance staff in getting stroke patients, to the right place, at the right time, for the right care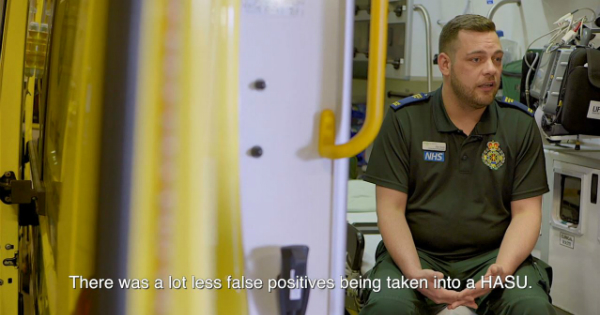 A new mobile application will help support ambulance staff to ensure suspected stroke patients are taken to the best site as quickly as possible after being developed following Health Innovation Manchester's "Mobilise the NHS" Scheme.
The app, which has already been tested by North West Ambulance Service (NWAS), presents clinicians with a clear flowchart of buttons to follow to ensure patients suffering from a suspected stroke are taken for specialist care and rapid treatment at a Hyper Acute Stroke Units (HASUs).
The idea for the app began during the Health Innovation Manchester's "Mobilise the NHS" events which brings together NHS clinical staff and small digital companies to jointly design software applications that solve clinical and care problems.
Over a period of two sessions, scheduled in November 2016 and January 2017, Manchester-based software development company D2 Digital teamed up with Salford Royal NHS Foundation Trust and NWAS to develop the idea for an app to improve the pathway for suspected stroke patients attending hospital.
Their idea was selected as one of the winning pitches during the events and the organisations have continued to work together to develop and grow the stroke app.
Sarah Thew, Associate Director of Digital at Health Innovation Manchester, said: "Mobilise the NHS is about pairing up clinicians who have ideas for apps with local forward-thinking digital companies and SMEs who work in the digital sector to develop innovative and creative solutions to problems and issues within the healthcare sector.
"SMEs are gain guidance about working with the NHS and ideas for software developments while clinicians are exposed to digital technology and how an app is developed.
"It is fantastic that one of the innovative ideas from Mobilise is now being trialled within the NHS in Greater Manchester and has the potential to make a difference in healthcare."
Within Greater Manchester there can be up to 6000 strokes a year, with a further 6000 non-stroke patients arriving on the pathway with symptoms mimicking a stroke.
The app works by using exclusion symptoms, such as high/low heart rate and seizures to identify patients who are experiencing symptoms which resemble a stroke however may be something else.
The new app then directs clinicians to the nearest Emergency Department for stabilisation and assessment to ensure they receive prompt treatment.
This ensures patients experiencing conditions such as seizures and sepsis do not come to harm through a longer and unnecessary journey to a HASU while also freeing up staff time and resources at the specialist unit to treat confirmed stroke patients quicker.
The app reduces a process that can take anything up to 10 minutes or more, down to 10 seconds and for patients with stroke caused by a haemorrhage this precious time is invaluable.
Research undertaken by Connected Health Cities has shown that time-sensitive treatments such as the reversal of anticoagulation and the lowering of blood pressure, together with neurosurgical treatment have helped to save two lives a months at Salford Royal Hospital alone.
Founder of the app Chris Ashton (Coordinator, GM Stroke Operational Delivery Network and a former paramedic) said: "This app is a simple solution to a complex problem. Clinicians are often working in new areas, having to remember numerous care pathway; this app gives that bit of extra support in knowing patients are getting the right care at the right place."
In 2017 the app was tested with 60 North West Ambulance Service (NWAS) clinicians and the results were overwhelming with fewer false positive patients being taken to the stroke unit.
Dan Smith, Area Clinical Paramedic, said: "The benefit to the patient was clear to be seen; there were less stroke mimics taken to Hyper Acute Stroke Units and better overall pathway compliance"
There are now plans to roll out the app in NWAS vehicles across the Greater Manchester region and, further down the line, the app has the capability not only to support the stroke pathway but also the cardiac, trauma and possibly more.
Following the first two Mobilise the NHS programmes, three software applications have started development and five SMEs have continued to work with the NHS as a consequence of their involvement in the programme.