27 Nov 2019
Health Innovation Manchester named as one of AHSNs to win AF Association Healthcare Pioneer Award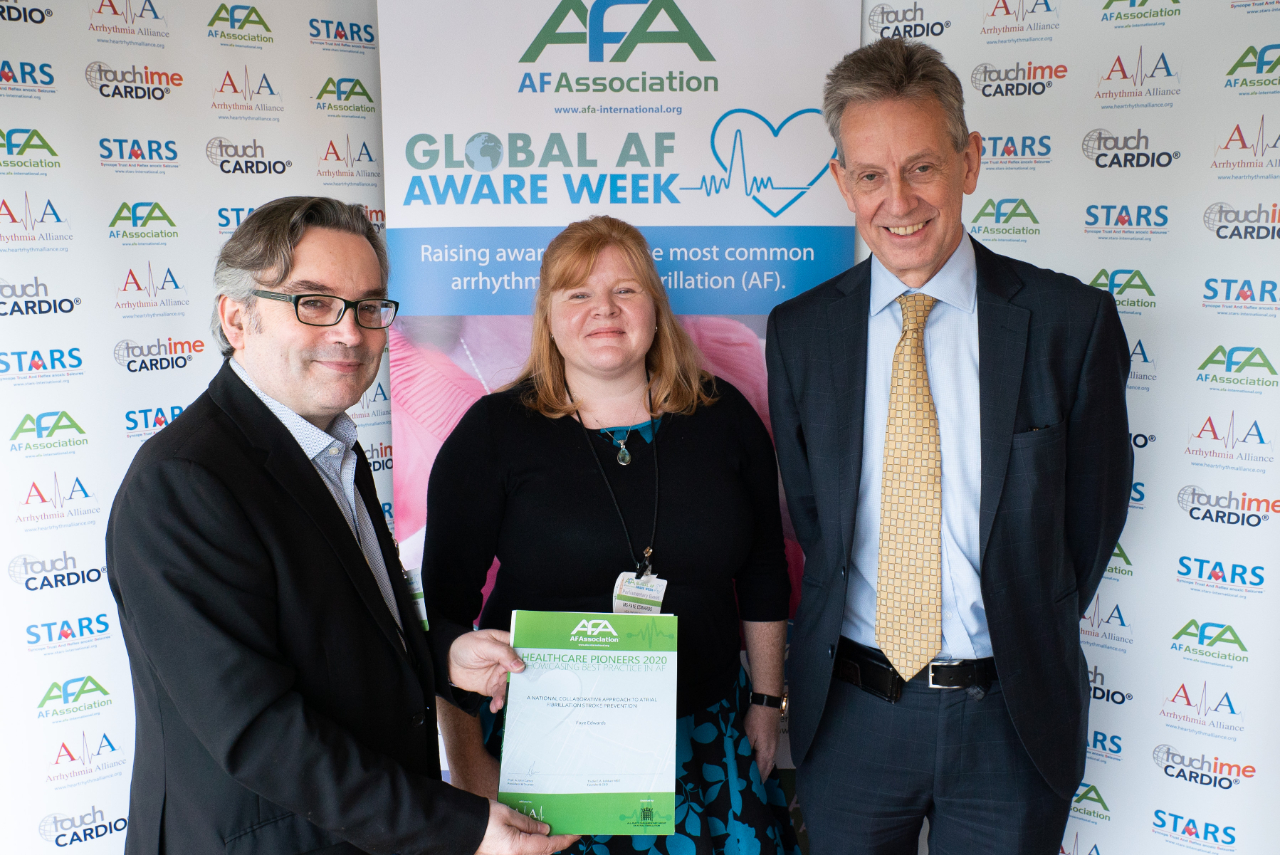 Health Innovation Manchester has been awarded an AF Association Healthcare Pioneer Award, for best practice in Atrial Fibrillation (AF) detection and treatment, for its work supporting NHS Tameside and Glossop Clinical Commissioning Group (CCG), in facilitating pharmacy-led clinical reviews in 38 GP practices to detect and optimise the treatment of Atrial Fibrillation (AF).
The AF Association is a UK charity that focuses on raising awareness of Atrial Fibrillation (AF) by providing information and support materials for patients and medical professional involved in detecting, diagnosing and managing AF. Each year, the AF Association Healthcare Pioneer awards recognise those who demonstrate excellent clinical practice and the development of AF services to improve patient outcomes and quality of life.
The AHSN Network Atrial Fibrillation (AF) programme and six other regional AHSN projects were also amongst the winners at the 2019 awards, these include:
East Midlands AHSN, for work in partnership with East Midlands Clinical Network and 19 Clinical Commissioning Groups, preventing an estimated 167 strokes, 56 deaths, secure health and care cost efficiencies of £3.45million per year.
Health Innovation Network, for supporting Guys and St Thomas NHS Foundation Trust to trial mobile ECG devices. These were used in in community clinics, domiciliary settings and at awareness events. Opportunistic testing was also conducted by community podiatrists.
Oxford AHSN, for working with Buckinghamshire CCG to improve therapy for a patient cohort with complex needs that had not been met by existing anticoagulation pathways.
UCLPartners, for work with South East Essex CCGs, issuing mobile ECG devices to 82% of practices across the CCGs, resulting in 23 new patients identified with possible AF and 431 additional patients receiving anticoagulation treatment.
Eastern AHSN, for work with The Queen Elizabeth Hospital Kings Lynn NHS Foundation Trust, providing mobile ECG devices which contributed to 49 patients newly diagnosed with AF and 44 patients started on anticoagulation therapy.
The awards took place during the AF Association Global AF Aware Week Parliamentary Event, held within the Palace of Westminster.