19 May 2020
Call for Greater Manchester to "Join Together for our mental health"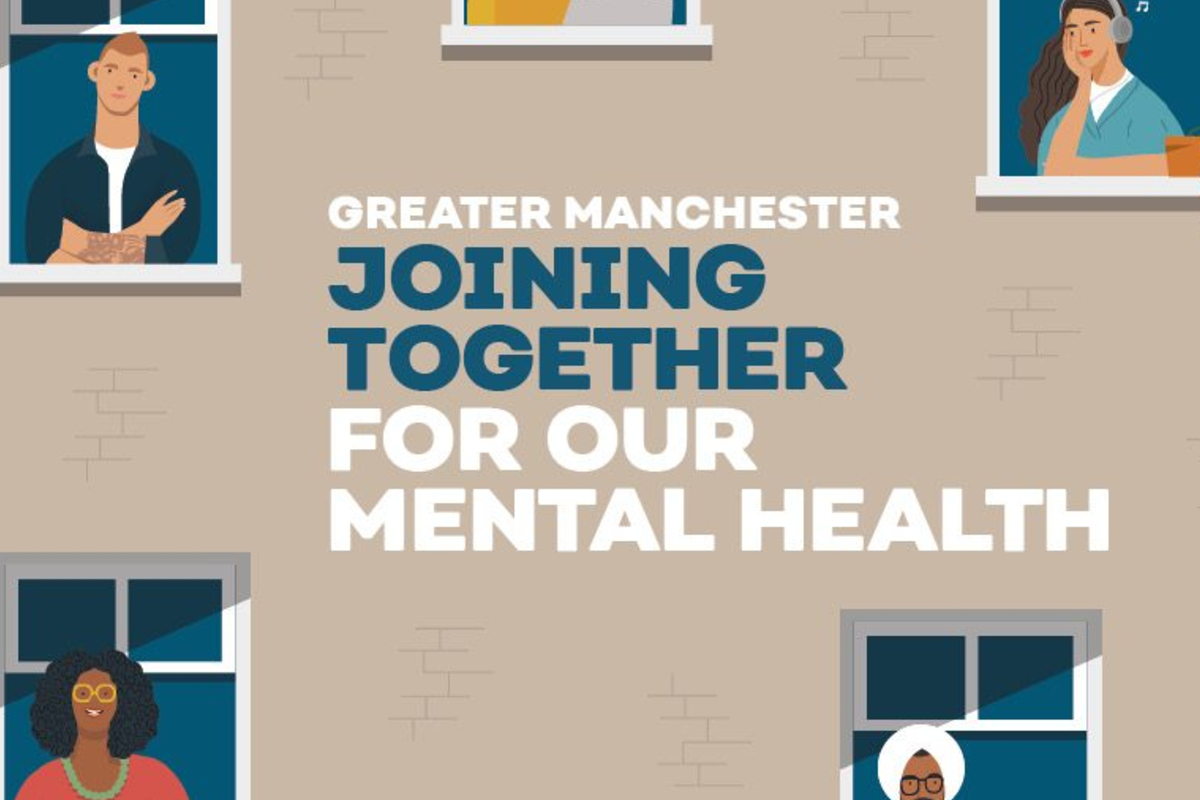 As Mental Health Awareness Week (18th-24th May) begins, Mayor of Greater Manchester, Andy Burnham is backing a new initiative to raise awareness of the support available for mental health and wellbeing during the coronavirus outbreak.
A Greater Manchester-wide programme of new digital services and online support was launched in early April, supported by Health Innovation Manchester, to help anyone who may be struggling with their mental health during the ongoing pandemic. The new support package includes:
Helplines have also been set up for each borough in Greater Manchester to connect people with practical support from the voluntary sector or local health services (see below for the phone numbers). Or, alternatively, calls can be made to NHS 111.
It is also part of a wider call for Greater Manchester residents to 'join together for our mental health,' focusing on the idea that social distancing doesn't have to stop communities joining together to support one another. Joining together will help people to stay healthy, safe and well, and able to play their part in stopping the spread of coronavirus.
Andy Burnham, Mayor of Greater Manchester said: "Mental health is a priority for us in Greater Manchester – now more than ever. It's important that we all look after our own mental health and wellbeing, and join together to take care of those around us. Many of us may need extra support to do this as we struggle with social distancing and isolation. That's why we've invested in a range of digital services that can be accessed without leaving the house, with no need for a referral from a health professional."
Dr Henry Ticehurst, Medical Director and Consultant Adult Psychiatrist, Pennine Care NHS Foundation Trust said: "We know things are difficult right now and many people may be feeling anxious, stressed or overwhelmed by the coronavirus outbreak. We have seen rapid changes to our lives in just a short space of time and this can be hard. But if you need help in a crisis, no matter what it is – there is support out there for you.
"Don't forget, your regular NHS health services are still providing the same safe care they always have. If you're concerned about anxiety or low mood you can contact your GP for advice, support or a referral if this is right for you. If you already have an appointment with a mental health service this may be conducted virtually, but it is important that you still attend."
Local mental health helplines
Bolton, 01204 337 221
Bury, 0161 253 5151
Heywood, Middleton & Rochdale, 0300 330 9073
Manchester, 0800 234 6123
Oldham, 0300 330 9073
Salford, 0800 952 1000
Stockport, 0800 138 7276
Tameside & Glossop, 0161 470 6100
Trafford, 0300 330 9073
Wigan, 01942 636 395