10 Jul 2019
Dr Adrian Parry-Jones wins Stroke Association Margaret Giffen Reader Award for research findings into benefit for patients after intracerebral haemorrhage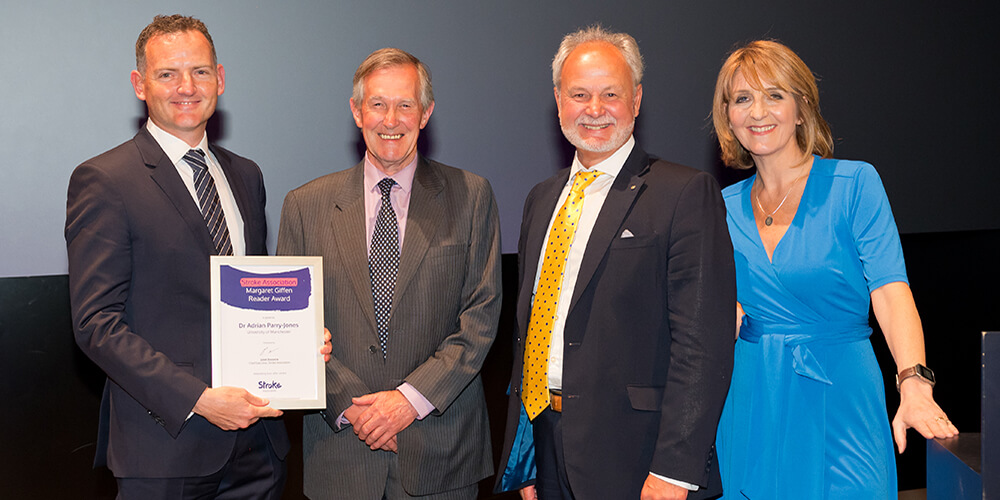 Dr. Adrian Parry-Jones, NIHR Clinician Scientist and Senior Lecturer in Vascular Neurology in the Division of Cardiovascular Sciences at The University of Manchester, has been awarded the Margaret Giffen Award by the Stroke Association for his research entitled 'Turning research findings into benefit for patients after itracerebral haemorrhage'.
The Stroke Association's Lectureship Programme is helping to build the next generation of stroke research leaders. Dr Parry-Jones' research lectureship has two main objectives; to develop new anti-inflammatory treatments for intracerebral haemorrage (ICH) and to improve the delivery of standard care for ICH patients.
This research aims to improve outcomes for ICH patients by improving the treatments available and the care given, not only in the UK but around the world. Find out more about Dr Parry-Jones' research here.
This also links to work being done by Health Innovation Manchester's Cardiovascular Disease (CVD) Research Domain and contributes towards HInM's wider CVD portfolio in Greater Manchester, which includes the Healthy Hearts programme.
Healthy Hearts is an innovative programme aiming to reduce deaths from (CVD) through better identification of those at risk of heart attack or stroke in Greater Manchester.
The project is working closely with Clinical Commissioning Groups to find those at highest risk of CVD, including those with high blood pressure and high cholesterol in a systematic and targeted approach. The programme also links with targeted health checks and lifestyle interventions. Click here to find out more about the Healthy Hearts programme.