09 Aug 2019
Greater Manchester Universities working together to embed digital literacy
Health Innovation Manchester have hosted a workshop with experts from the University of Salford, University of Bolton, Manchester Metropolitan University and The University of Manchester to map and scope additional innovative ways to integrate digital literacy skills into undergraduate degree programmes.
Professor Peter Clayton, Chief Academic Officer at Health Innovation Manchester, chaired the event on 7 August 2019 and provided an update around the unique opportunity of working together to achieve a unified approach.
Professor Clayton said: "All four Universities of Greater Manchester are partners of Health Innovation Manchester and together we want to promote 'lifelong learning for lifelong health'.
"Working together as a whole, we can create something greater for Manchester than the sum of the parts".
Guy Lucchi, Digital Director at Health Innovation Manchester, also provided an overview of the digital strategy for Greater Manchester and how through education and training, we can lead on digital transformation, patient safety and optimising care pathways.
He said: "Digital can be a scary word, but we all use our laptops, tablets and phones every day.
"Digital is just an enabler, and we need to ensure that we are using it to enable change in healthcare. In order to do that we need 'Tech' graduates speaking health, and health graduates speaking tech".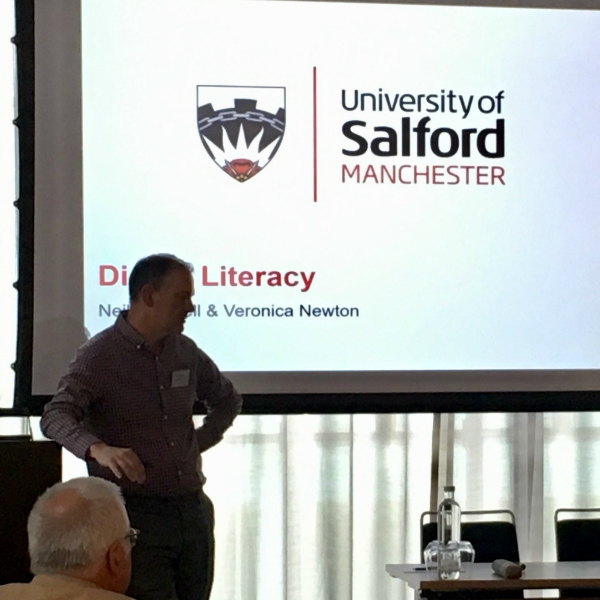 Neil Withnell, Associate Dean Student Experience, School of Health & Society at University of Salford, attended the event and said:  "The workshop was a great event, and a showcase of the work that is going on in GM to develop digital literacy in learning".
Health Innovation Manchester are planning a follow-up workshop in November. If you would like to be involved in this follow-up event and future workshops, please contact Jenny Schofield (Jennifer.Schofield@healthinnovationmanchester.com), Academic Partnership Relationship Manager at Health Innovation Manchester.