03 Dec 2019
Bruin Biometrics (BBI) Europe Limited wins Bionow Product of the Year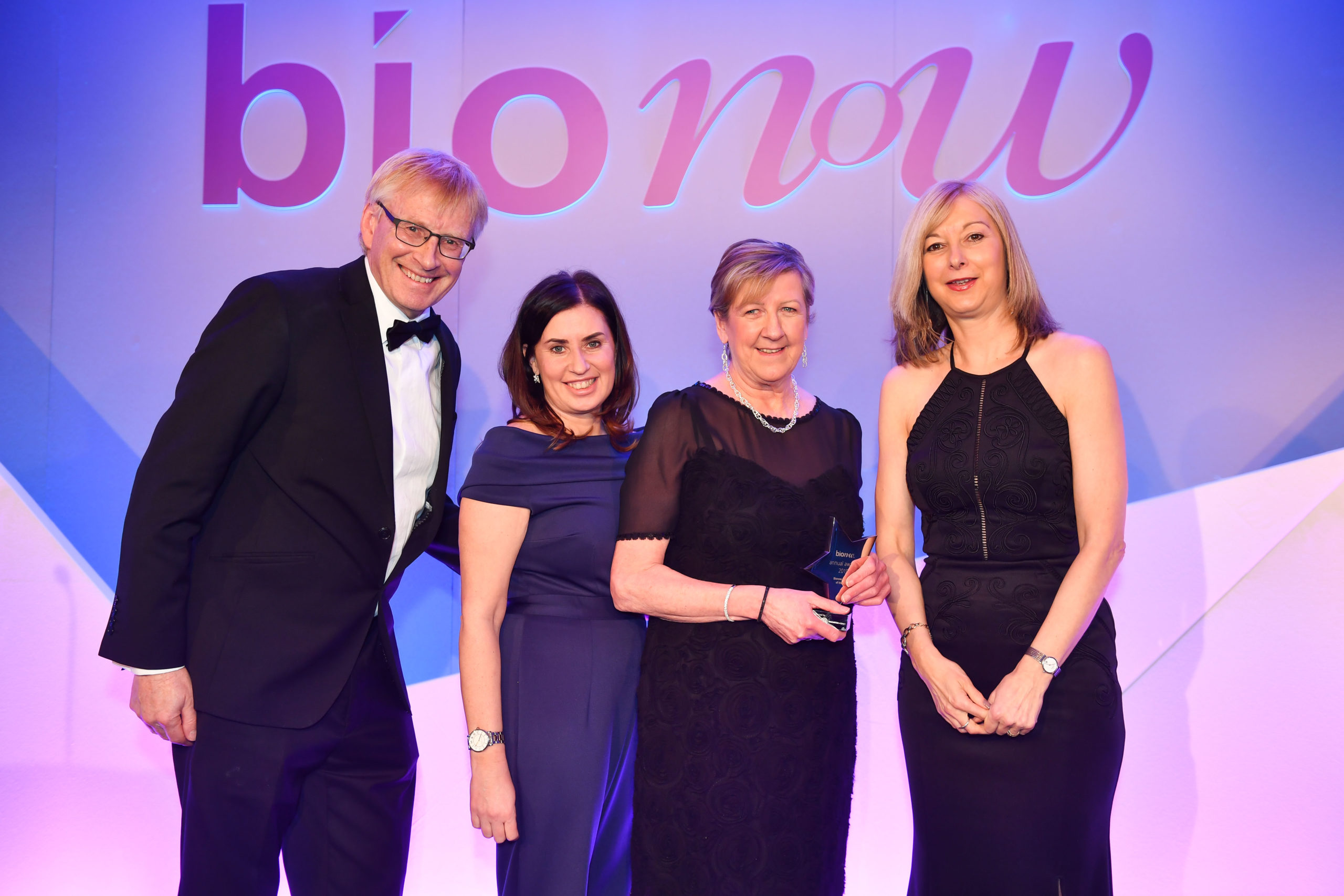 Cheshire-based Bruin Biometrics (BBI) Europe Limited were winners at the annual Bionow awards.
Bruin's handheld SEM scanner for detecting pressure ulcers was named Product of the Year at the awards, which celebrate outstanding achievements in the biomedical and life sciences sector.
The SEM scanner can detect pressure ulcers before they appear by measuring changes in the skin and tissue beneath. This helps healthcare staff choose the right intervention, such as turning more frequently, providing heel protectors or changing the surface of the bed or chair.
Bruin is supported by the Innovation Agency (the Academic Health Science Network for the North West Coast) and Health Innovation Manchester. The SEM scanner has been introduced to three trusts in the North West, including district nursing teams and renal wards. Feedback from one trust showed that in 82 per cent of patients, use of the SEM scanner changed their clinical decision making and there was a 27 per cent reduction in pressure ulcers over the course of a three month trial.
The Bionow Product of the Year Award recognises innovative products which have a significant impact upon a particular problem. The award was sponsored by the Innovation Agency, Health Innovation Manchester and Yorkshire & Humber Academic Health Science Network. Runners up were Glow New Media and Safe Steps, both based in Merseyside.
Geoff Davison, CEO of Bionow, said: "The work undertaken by all our winners and nominees in the past year has been truly inspiring, and leaves me in doubt our sector is well placed to drive forward disruptive and pioneering products, treatments and developments that will vastly improve lives around the world."
Rowena Burns, Chair of Manchester Science Partnerships (MSP), one of the sponsors of the awards said: "It's been another stand-out year of achievement and progress for life sciences in the North, where the strong spirit of partnership between academia, the NHS and businesses of all sizes, is leading to the development of some exciting new products and therapies.
"MSP and Alderley Park are proud to be at the heart of this community and are committed to not only creating world-class facilities for innovation-led businesses, but enabling new partnerships and collaborations, and providing access to the skills, talent, and funding they need to scale.
"We are proud to support the Bionow Awards as they continue to go from strength to strength, and we're delighted to see our customer Yourgene Health, based on our Citylabs 1.0 biomedical campus, winning two awards, including the prestigious Company of the Year.
"Bionow does tremendous work in championing and empowering the sector across the north, and it's an honour for us to help support this celebration of what our region has to offer."
Innovation Agency Chief Executive Liz Mear said: "Bruin's SEM scanner is a product which addresses a challenging issue for the NHS. It is a unique tool and its application is helping trusts reduce costs and improve patient care. The SEM scanner is a great example of how world-class innovation in the region is enabling continually improving healthcare. I'm delighted to see Bruin recognised with this award."
Cara Afzal, Senior Programme Development Lead at Health Innovation Manchester said: "We were delighted to see Bruin SEM Scanner receive a Bionow award. We are looking forward to continuing our work with the company and supporting the wider adoption and spread of this innovative solution."
The full list of winners was:
Bionow Start up of the Year Award Sponsored by RSM UK
Winner: Ostique
Bionow Healthcare Project of the Year Sponsored by Mills & Reeve
Winner: The Newcastle upon Tyne Hospitals NHS Foundation Trust
Project: Delivering Advanced Therapies to NHS Patients at Scale
Bionow Project of the Year Sponsored by Waters Corporation
Winner: University of Bradford
Project: EfferShield: A novel approach for low sodium effervescent products
Bionow AMR Award Sponsored by The AMR Centre
Winner: F2G
Project: Phase 2b development of the novel systemic antifungal Olorofim
Bionow Product of the Year Sponsored by The Innovation Agency / Health Innovation Manchester / Yorkshire & Humber AHSN
Winner: BBI (Bruin Biometrics) Europe
Product: SEM Scanner
Bionow Technical Service Sponsored by Gateley
Winner: Evotec (UK)
Technical Service: Five-year partnership: Evaluate novel treatment regimens for MDR tuberculosis
Bionow Promising Technologist of the Year Sponsored by Seqirus
Winner: David Chisholm, Research Chemist, LightOx
Bionow Export Award Sponsored by DLA Piper
Winner: Quay Pharma
Product/Service Exported: Pharmaceutical development and GMP manufacture of drug products for clinical manufacture
Bionow Investment Deal of the Year Sponsored by QIAGEN
Winner: Yourgene Health
Deal: Acquisition of Elucigene a Manchester-based molecular diagnostics manufacturer and developer by Yourgene Health plc
Bionow Outstanding Contribution Sponsored by Sci-Tech Daresbury
Winner: Bernard Ross, CEO / Founder, Sky Medical Technology
Bionow Company of the Year Sponsored by AstraZeneca
Winner: Yourgene Health